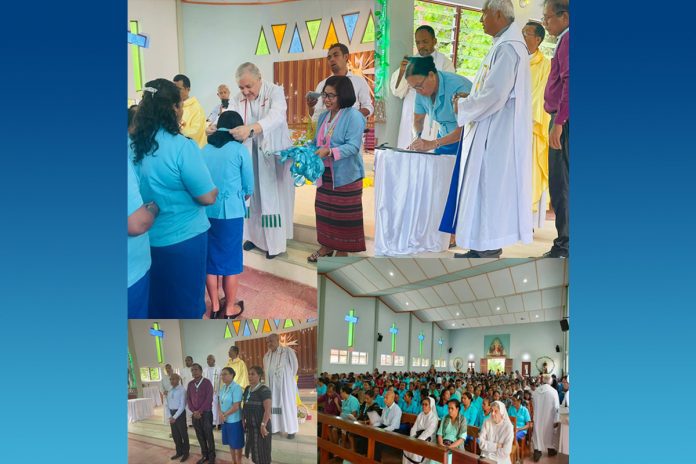 East Timor. From 18 to 20 November 2022, the 3rd ADMA Congress took place in Fatumaca, at the Shrine of Mary Help of Christians on the theme: "Like Mary we walk with Jesus". 335 members of ADMA were present at the Congress, including 102 new candidates who made their promise during the concluding Holy Mass.
The Congress began on November 18 with the welcome of the participants who arrived in Fatumaca together with their spiritual animators, priests and FMA. This was followed by the greeting of the National Delegate of ADMA, who encouraged them to renew their commitment with greater awareness of their belonging to the Association.
After a video greeting  message, translated into Tetum by Sr. Lucrecia Uribe, Daughter of Mary Help of Christians, ADMA World Delegate, Sr. Esmeralda Soares, FMA, presented Strenna 2023 of the Rector Major of the Salesians of Don Bosco, " LIKE YEAST IN TODAY'S HUMAN FAMILY. The lay dimension of Don Bosco's Family". Sr. Esmeralda recalled that each one receives a call which, like a seed, must bear fruit, so that we complete each other as a single family.
On the second day, Fr. Apolinario Maria Neto, SDB, presented the Identity Card of the Salesian Family, urging us to cultivate the desire to be part of this family with three commitments: Unity, Participation, Sense of Belonging, the foundation of which is love of God and neighbor.
The Provincial of the East Timor Province, Fr. Anacleto Pires, SDB, then presented the identity and mission of ADMA, starting with two questions: What is ADMA? What does it mean to participate in this Association?, deepening the topics concerning: the Salesian Family; the laity in the Church; the proposal of formation itineraries; sanctification and the Salesian apostolate; walking with Mary to defend, form and bear witness to one's Catholic faith; the spirituality of ADMA; and the commitment to keep alive  devotion to Mary help of Christians and  love for the Eucharist.
The Congress concluded with the Eucharistic Celebration presided over by Fr. Anacleto Pires, together with three concelebrants: Fr. Andre Callejas, SDB, Fr. Manuel Ximenes, ADMA National Delegate; and Fr. Isaias, spiritual animator of ADMA Fatumaca. After the homily, the new national councilors:  the President, Mr. Joao Brito; the Vice-President, Mrs. Maria Lourdes de Sousa Ximenes; the Treasurer and the Secretary  confirmed their commitment, renewed their promise before the altar, and received the blessing from the celebrants.
102 new ADMA members then made their promise, each receiving the ADMA medal and regulation.
After the final blessing, the Provincial of  St. Mary D. Mazzarello Province (TIN), Sr. Alma Castagna, greeted the participants and wished them to be committed and authentic members of ADMA, assuming this lifestyle in the family, in the workplace, in the Church, through good relationships with everyone and by living one's commitments coherently: love for the Eucharist and Marian spirituality, uniting life and apostolate.