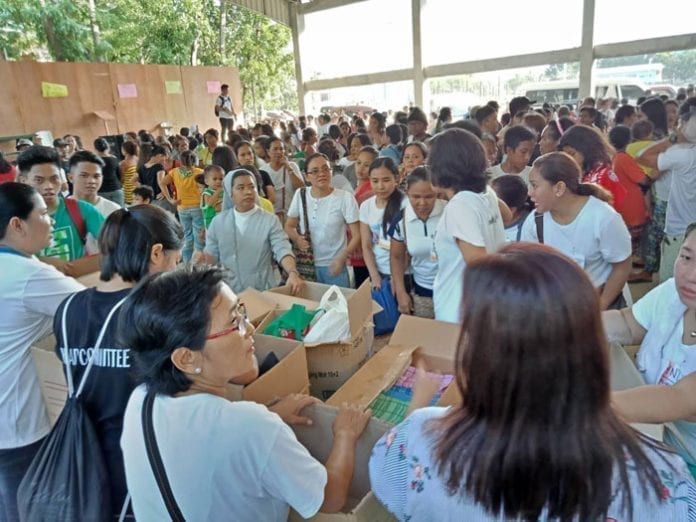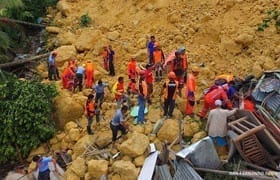 Philippines. The Educating Community of Mary Help of Christians School in Cebu, Philippines, very quickly initiated emergency assistance to the landslide victims in Naga, Cebu, which is just about seven kilometers away from the FMA school. The Sisters, teachers, students, past pupils, and parents all lent a hand to prepare the food for the evacuees some hours after the landslide. The massive landslides near the limestone quarrying site occurred on September 20 after days of heavy monsoon rains. The affected area is so large that it covers five villages — Tinaan, Naalad, Mainit, Pangdan, and Cabungahan – all declared under a state of calamity by the mayor. As of September 24, death toll is 46, missing persons are 34, and almost 4,000 people are still in evacuation centers.
As news of the FMA relief operation spread around, thanks to Facebook posts and the word of mouth, donations of basic necessities abundantly poured in. The number of volunteers from the Educating Community (EC) also increased. The school became the hub for donations and preparations. From September 21 to 22, goods were repacked by the volunteers for easy distribution in the evacuation center. Varied group activities that serve as trauma therapy were carefully planned for the evacuees. Orientations were conducted to the volunteers who will be going to the evacuation centers.
After all the preparations, 112 volunteers of the EC went on September 23 to serve the landslide survivors in the Naga Central School evacuation center. This evacuation center shelters 2,000 individuals of approximately 300 families. The EC volunteers conducted psychosocial activities as trauma therapy. They have also invited a priest to celebrate the Holy Mass which also became a touching moment of faith and resiliency of the people. They distributed packs containing clothing and toiletries.
The relief response continues. There is a very strong spirit of faith, prayer, and solidarity not only among the members of the Educating Community but in the whole island of Cebu, the place where Christianity in the Philippines was born nearly 500 years ago.