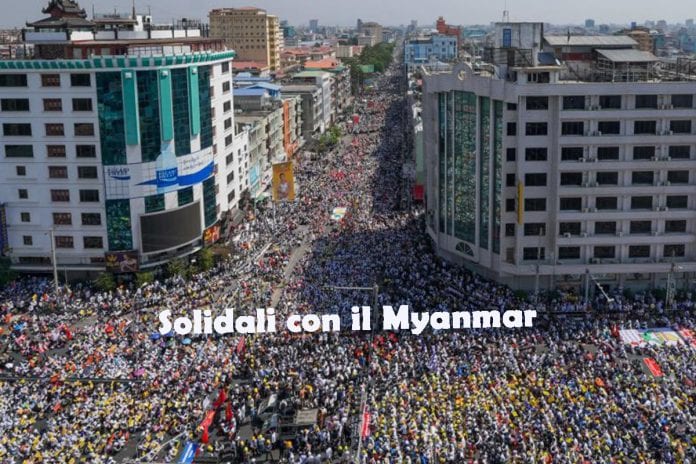 (Myanmar). "The Lord is faithful; he will strengthen you and guard you" (2 Thessalonians 3:3). It is the Word that accompanies the members of the Educating Communities of the FMA of Myanmar, of Mary Our Help Province CMY, called to face great challenges: the coronavirus health emergency, which has caused to date about 140 thousand cases and over 3 thousand deaths, and the coup d'état which took place on 1 February 2021.
The people, the young, and the elderly stand in solidarity in asking for peace and freedom, even as the coronavirus continues to spread. It is a sad situation that the people are experiencing.
"As citizens of Myanmar we are challenged by this unexpected event and we are in solidarity and close to our suffering people. Throughout 2020 the people of Myanmar have fought hard against  the Covid-19 pandemic and are concerned about the situation for the nation and for the Salesian educational mission among poor young people, children, and their families."
All the FMA communities of Myanmar entrust themselves to God, the source of hope, justice, and peace.
"We do not feel alone but united with all the FMA in the world. We are convinced that this is a sign of God's providential love and care. We experience God's Providence together with our friends and benefactors from other countries, our neighbors, the families of our children and young people, who show their generosity in supporting the poorest and most vulnerable. The prayers of the Pope and of all our sisters throughout the world sustain us. We are committed to accompanying young people who believe in the peace and unity of the nation and we support them by educating them to dialogue, reconciliation, and love so that a just, peaceful, and human society may be built where all can enjoy fundamental human and civil rights. As an Educating Community, we are urged to be signs of hope and courageous witnesses in asking for peace and freedom."
Moved by Hope, the FMA of Myanmar are close to the poorest who are in need of basic necessities, trusting in the Divine Providence of God and in the generous help of benefactors. They invoke the help of Our Lady to promote social justice and the harmonious, democratic, and peaceful coexistence of the nation.
The FMA live this time of Lent with great hope. May Mary Help of Christians and Saint Joseph, who work wonders in silence, continue to walk and support the FMA and the people of Myanmar.
Lent is a time to take care of those in conditions of suffering. It is possible to send contributions and offerings in the manner indicated on the FMA Institute website,
indicating the emergency reported as the reason for this help.