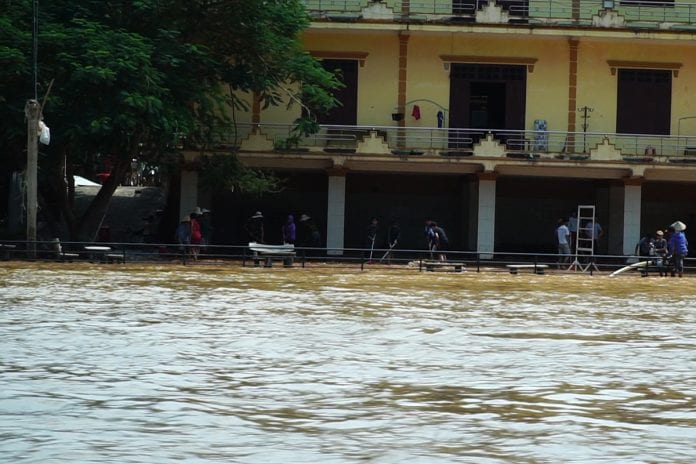 (Vietnam). Since October 6, 2020, heavy rains and storms started flooding downstream areas of the six central provinces from Ha Tinh to Quang Nam in the central region of Vietnam. Rain continues to fall, hydroelectric reservoirs are overflowing, floods are increasing rapidly.
In the provinces of Thua Thien Hue and Quang Tri, in the mountainous area, earth and rocks collapsed, causing damage to people and property, while the province of Quang Binh was extensively flooded.
In Quang Binh, the flood on the night of 19 October – a flood never seen in the past 41 years, submerged ten thousand homes, forcing many people to seek help. The most flooded area of Quang Binh is the district of Le Thuy with more than 32,000 houses covered by water. In the whole province more than 105,000 people are now in extreme difficulty. Due to this natural disaster the damage is enormous.
From the statistical data of the Central Steering Committee for the prevention and control of natural disasters, the rains and floods in the central region of Vietnam from 6 to 25 October, caused the death of 130 people, 18 missing; more than 800 homes were damaged and 320 homes were flooded. Agriculture also recorded heavy losses with over 1,400 hectares of rice and 7,800 hectares of flooded crops; more than 7,000 cattle and 900,000 chickens are missing.
On the morning of October 28, storm Molave approached the coast from Quang Nam to Phu Yen causing heavy rains and winds that felled many trees and wiped out billboards, cars, etc. The storms and floods followed one after the other. The mud covered houses, fields, and roads causing enormous damage to people and property.
Vietnam, in this time of the Covid-19 Pandemic, is already facing economic difficulties. Floods and storms have made the life of the people and the Central Region even more precarious.
The FMA communities of  "Mary Help of Christians" Province of Vietnam (VTN), despite the storm that continues to rage over Vietnam, are well and have not suffered material damage. Some families of our sisters, however, who are in the affected areas, are in difficulty.
The provincial community comes close to the people and responds to the emergency by providing aid to the affected population. Networking with the parishes, it has put in place a campaign "Together for the Central Region of Vietnam" to help families who need clothes, blankets, cookware, pots, and all kinds of basic necessities.
The Institute of the Daughters of Mary Help of Christians counts on the generosity and solidarity of all. It is possible to donate in the manner indicated on the  Web Site of the FMA Institute , and indicating in the reason for payment the emergency reported.
 "God is never outdone in generosity" (Don Bosco – MB II,254).