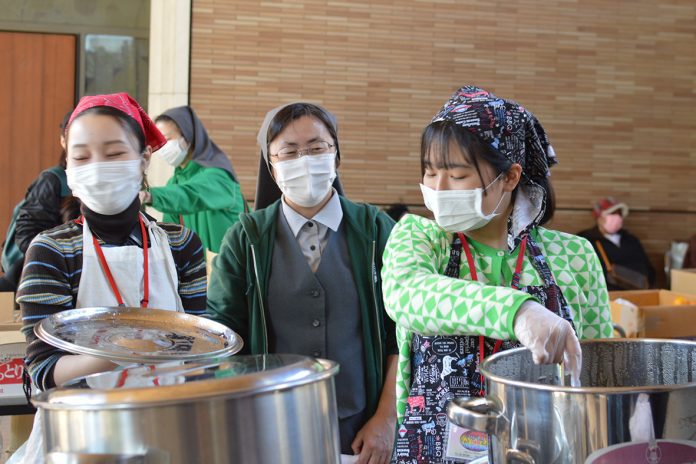 Tokyo (Japan). On 3 November 2021, when  National Culture Day is celebrated in Japan, some members of the VIDES Japan Association and some Daughters of Mary Help of Christians of  Alma Mater Province (GIA) collaborated with the volunteer NGO Amigos, which deals mainly with refugees, at the 62nd Day of medical, legal, psychological consultations, organized at the parish center of Yotsuya (Tokyo).
The initiative was aimed at welcoming people who have a temporary residence permit in Japan, or refugees who have applied for a visa but have not yet received a residence permit and who due to their condition, cannot get work, receive medical assistance, or use other services.
VIDES Japan began collaboration with the NGO Amigos in time of pandemic, to help alleviate the suffering and poverty caused by Covid-19. For this initiative, 24 VIDES members worked in synergy with volunteers from Amigos and two other NGOs.
About 150 people of different nationalities participated in the day, and were able to receive a free medical examination and, for further analyses, surgery or more in-depth visits, they were referred to hospitals that offer free assistance for them.
Some volunteers  lent themselves as interpreters for the different languages: English, French, Burmese, Persian, Spanish, etc. In fact, many refugees do not know the Japanese language except for the most basic needs.
VIDES volunteers and the Daughters of Mary Help of Christians contributed mainly by providing food and cooking lunch for the participants, by distributing clothing and food, and by assisting the numerous children present.
The collaboration between the Associations was dynamic and targeted. In fact, the organization provided for two meetings prior to the Day in which the volunteers were prepared to meet multiple needs and a differentiated menu was also designed for different cultural and religious needs.
In the final greeting, the head of the NGO Amigos, a permanent Catholic deacon, stressed that the day was over but at the same time, for all those who collaborated it was really beginning. With these words he wanted to encourage continuity both in material aid and in the interest and attention to refugee people, who do not always live in dignified conditions.
He thanked the VIDES Japan association in particular, saying, "Through the activities carried out with you, with the sisters, and members of the parish, I felt like I was returning to the action of Jesus." He also said, "Even though we face many difficulties, we are assured of the support of His Word. With this, we in turn want to become a support for the weakest."
Despite the fatigue caused by the intense commitment, the volunteers of VIDES Japan experienced the joy of touching firsthand what it means to help the poor and the excluded that we often hear about, but whom we do not always meet in everyday life.