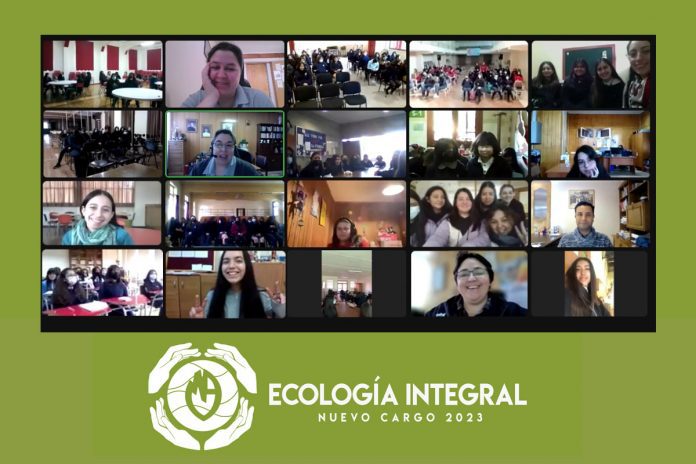 Chile. On 11 October 2022, CEDIMA (Mary Help of Christians Directive Center), the group of young people of the Salesian Youth Movement (SYM) representing the Educating Communities of the Daughters of Mary Help of Christians of St. Gabriel Archangel Province (CIL), held a national online meeting to present the new role of "Delegate for Integral Ecology".
Accompanied by the Provincial, Sr. Ximena Oyarzo, and by Sr. Domenica Gonzalez, Provincial Councilor for Youth Ministry, together with the members of SYM, educators, FMA, and many students who are members of the local administrations, the young women of the CEDIMA Council addressed the Schools, Centers of the Province, and their respective Administrators from the seventh elementary grade to the fourth year High School grade of the FMA realities.
Antonia Saldivia, member of the CEDIMA Council in 2019 and former student of Holy Cross School, currently a member of the "Tremendas" Foundation, a women's foundation that deals with climate awareness and action, shared her testimony. During the school years, Antonia participated in the "Ecological Brigade" of her Educating Community and, together with her classmates, participated in the meeting "I Can" in 2019 in Rome with Pope Francis, and in the COP25 in 2021. With her testimony in favor of climate action, she encouraged them to be young protagonists of change, to face the climate crisis in synodality, starting from their own communities.
In the central moment of the encounter, the Coordination of the National Council CEDIMA 2022 presented the participants with the new role, which will be added 'ad experimentum' to the elections of the Directors of the Courses and of the CEDIMA Council 2023. Assuming the priority choices of the 24th General Chapter for the 2022-2027 Six-year term of the FMA Institute, in particular the Chapter Deliberation, the young leaders of the Educating Communities of CIL Province opted for the creation of a new position in response to the current ecological situation.
The Provincial, Sr. Ximena, in illustrating this task, encouraged young people to be increasingly significant protagonists in actions in favor of the climate:
"The title of 'Delegate for Integral Ecology' highlights our attention to the current climate situation. I would like to congratulate you on having reached this agreement, because the climate emergency is a situation that deeply touches us Salesians and pushes us, not only to reflect on our ecological practices, but also to rethink our way of relating to all of creation. From this point of view, integral ecology is an option that influences our perception of the world and regards all our actions".
"Integral ecology is inseparable from the notion of the common good, a principle that plays a central and unifying role in social ethics. It is the set of conditions of social life that allow both groups and individual members to reach their perfection more fully and more quickly" (LS 156).