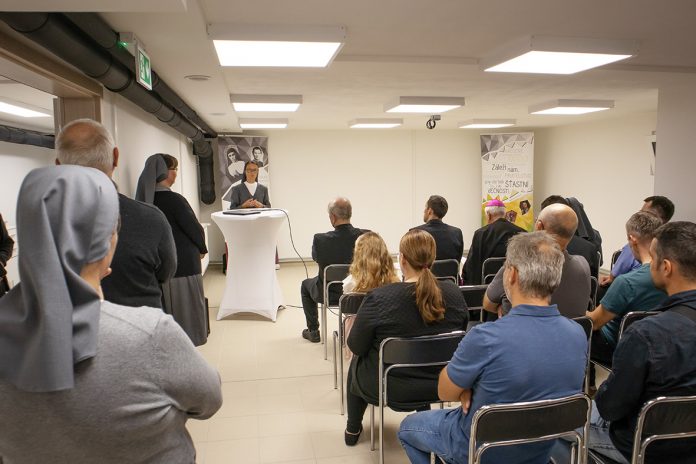 Bratislava (Slovakia). On 7 October 2022, in Bratislava – Petržalka, on the Feast of Our Lady of the Rosary, the Apostolic Nuncio Msgr. Nicola Girasoli blessed the renovated part of the headquarters of St. John Bosco Province (SLK) intended for hospitality and formation.
The renewed part, called "DO.MA", a combination of the words house and Mary, important elements of the Salesian charism, is intended for the reception and accommodation of guests, the organization of educational activities, and the formation of young people. The house represents a family environment and Mary because for the Daughters of Mary Help of Christians, she is the heart of the legacy of Don Bosco, who wanted them to be "a living monument of gratitude to the Help of Christians".
The opening ceremony of the house began with the cutting of the ribbon by the Apostolic Nuncio, by the Bursar General of the FMA Institute, Sr. Ena Veralís Bolaños, on a short visit to the SLK Province, and by the Provincial, Sr. Monika Skalová. A liturgical moment followed with the blessing, during which Msgr. Girasoli said: "I am very happy that my first pastoral visit to Slovakia is connected with the blessing of a house. The blessing does not belong only to the walls, but above all to the hearts".  He shared that the Salesian charism is very close to him because he has a sister who is an FMA.
The guests were then presented with the history of the house, from 1993 until today. Sr. Mária Červená recounted the circumstances of the purchase of the house and the Provincial presented the activities in which the FMA were engaged before the renovation. She thanked all those who contributed to the renovation of the house: the FMA Institute, the provincial treasurers Sr. Ľubica Feňová and Sr. Jana Kurkinová; the Salesians of Don Bosco of the Mary Help of Christians Province (SLK); the parish pastor, construction companies, and others.
Sr. Ena Bolaños, who came in the name of Mother General, Sr. Chiara Cazzuola, underlined: "We believe that Mary Most Holy has been passing through our homes from the time of Don Bosco until today. It is important to make people feel the presence of Mary through our life".
The inauguration ended with a moment of conviviality during which guests were able to visit the premises of the house. As the Apostolic Nuncio underlined, referring to the words of Pope Francis on his visit to the island of Malta, hospitality is "our simplest and most beautiful witness in the world" and education and formation are very Salesian.
Photos: Juraj Chorvatovič ASC