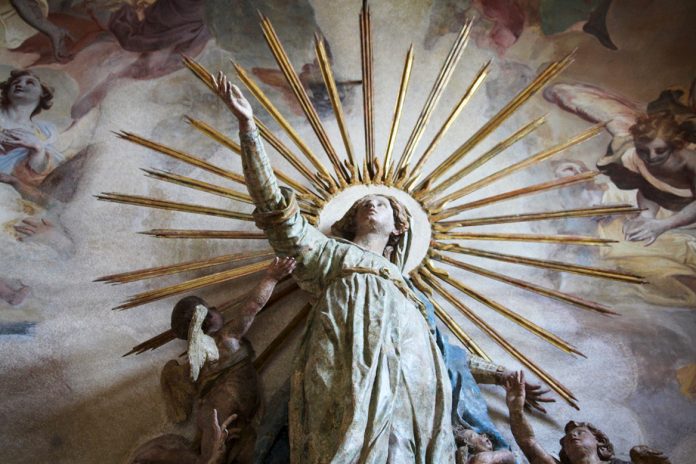 Rome (Italy). On the solemnity of the Blessed Virgin Mary assumed into heaven, the Second Vatican Council teaches us to look with love on her who "shines as a sign of sure hope and consolation for the People of God on the way" (Lumen gentium 68), and to nourish one's own hope and that of children, teenagers, and young people. The Holy Father Francis, in the Angelus of 15 August 2020, invited to the praise and hope realized in Mary, "In Mary the goal is reached and we have before our eyes the reason why we walk [..] And Our Lady is the star that guides us. She went first".
Venerable Mother Laura Meozzi had in her soul a deeply rooted love for the Virgin, and she took every opportunity to exhort her spiritual daughters to entrust themselves to Her, to honor Her especially in the proximity of the months of May, October, the novena of the Immaculate, and other Marian feasts, such as the Assumption. Particularly significant expressions are found in her letters:
"Well done, do everything you can to honor the holy heavenly Mother. Offer her your sufferings and when you have them, they are inevitable in life, go to Mary's feet and you will feel consoled".
"Recommend yourself to Our Lady, really a lot; tell her to take you under her mantle and teach you to live as she lived, always in harmony with everyone, because she is good, generous, mortified".
True devotion to Mary, instilled by Mother Laura, consisted in imitating the virtues of the Virgin and in kindling by contagion filial love for Her in the hearts of young women and girls.
"I know you love Jesus and Mary Help of Christians very much. Now we are approaching the novena of the Immaculate Conception. Prepare to be very fervent in the observance of the Rule, especially in the points that cost you the most, with fervent prayer made with living faith and with strong hope and ardent charity".
"Courage, my dear.  Go ahead with trust. Let Mary Help of Christians be you Teacher, Mother, Consoler, and Protector.  Love Her with all your heart and all your soul, so that you may radiate this love on your pupils as well".
In a letter to all the Communities of Poland in the month of May, she writes:
"We must honor Mary, love Her as we have never loved Her before.  We need to put fire in our heart to warm the hearts of others as well; work with zeal and ardor for the salvation of souls".
A Polish Sister reveals the level of filial humility that existed between Mother Laura Meozzi and Our Lady, the special graces received from Her:
"She was a soul totally of Mary.  When in 1933, she was in danger of death, she consoled the sisters that she would not die because she had not yet seen Our Lady.  She had the assurance that forty days before her death, she would see Our Lady and was convinced that this would happen.  In her last illness, she often said she had seen a Beautiful Lady with a Child in her arms who played with roses.  She also said this in the presence of the sisters after receiving Extreme Unction.  She made them all kneel, telling them that the Blessed Mother was blessing them.  When the Provincial asked her how the Blessed Mother was dressed, she answered that she did not know, because she was looking only at Her eyes that were as bright as the sun." (From the Positio super virtutibus of Mother Laura Meozzi).
As Daughters of Mary Help of Christians, we are called to direct the young people to the Risen Lord and to His Mother, and to have "a gaze of hope that is a way to go beyond the provisional and partial forecasts that we live by" (Acts of GC XXIV, 13).