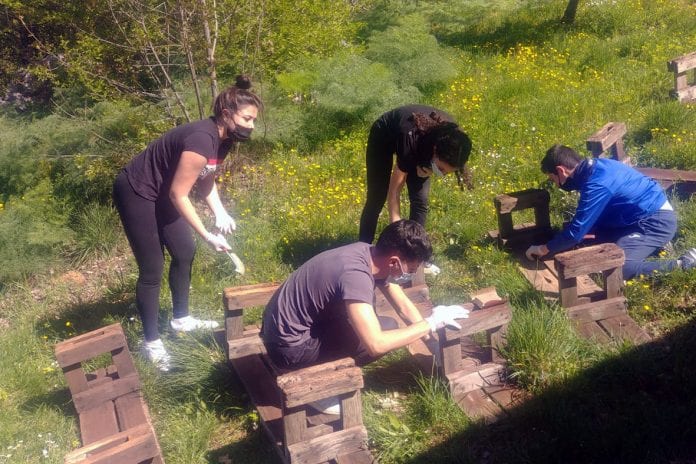 Subiaco (Italy). On 25 April 2021, the Educating Community of  San Biagio House of Prayer at Subiaco (Rome) –St. John Bosco Province (IRO) –  organized a Laudato si' Day of work, prayer, and on the themes of integral ecology for the young people of the area.
The proposal stems from the desire to give substance to the words of Pope Francis who in the Encyclical Letter Laudato sì, taking up the experience of the Ora et labora of St. Benedict of Norcia, recalls that "Personal growth and sanctification came to be sought in the interplay of recollection and work. This way of experiencing work makes us more protective and respectful of the environment; it imbues our relationship to the world with a healthy sobriety "(LS 126).
On 24 April, the Educating Community met together to study the theme of the "Gospel of work", an expression of St. John Paul II who, in the Encyclical Letter Laborem Exercens says: "Jesus not only proclaimed, but first of all fulfilled the 'Gospel' with the work entrusted to Him, the Word of eternal Wisdom. Therefore, this was also the 'Gospel of work', because He who proclaimed was Himself a man of work, of craftsmanship like Joseph of Nazareth" (LE 26).
The biblical passage from the Acts of the Apostles (Acts 9: 32-43) accompanied the reflection and sharing on how to better live work and commitment in favor of others in everyday situations. The manual work of reorganizing the spaces surrounding the house gave substance to meditation. Starting from these reflections, the idea of proposing a day dedicated to Laudato Sì to young people in the area came to fruition.
On 25 April, about twenty young people from Subiaco and Cerreto Laziale (Rome) joined the Educating Community of San Biagio House of Prayer to live together a day dedicated to manual work, friendship, and prayer, experiencing the importance of taking care of the 'common home'. After the greeting and presentation of the program by the Animator, Sr. Vilma Colombo, the young people were divided into work groups. Each group was dedicated to cleaning, sanding, and repainting the wooden benches and the writings that adorn the hermitage of San Biagio.
The day, enriched by moments of conviviality and recreation in Salesian style, ended with the Eucharistic celebration presided over by Fr. Carlo Maria Zanotti, a Salesian of Don Bosco, who in his homily highlighted the importance of taking care of creation.
The initiative saw young people and adults of the Educating Community working together with joy for the good of the 'common home', enjoying life in the open air, and the commitment and effort in completing manual work.