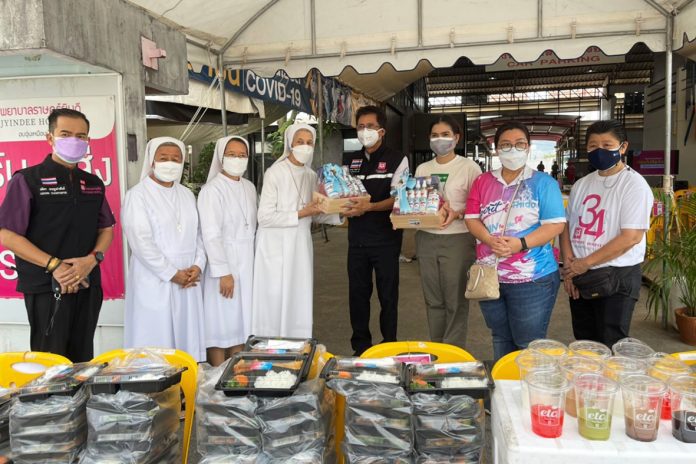 (Thailand ). The FMA Communities and the Educating Communities of  St. Mary Mazzarello Province (THA) collaborate with the Groups of the Salesian Family and with religious organizations to bring aid to people affected by Covid-19.
In Thailand, with the increase in cases of Covid-19, regional health bodies and volunteers have taken steps to implement preventive measures, provide treatment, monitor the spread of the epidemic. The FMA Communities, in the different realities in which they are present, participate in the activities of the territory to meet the needs of the population. To reach the lockdown areas and refugee camps, bags with basic necessities are prepared to be sent through the Social Development Centers.
The initiatives of the FMA Communities:
Our Lady of Grace Community of Udon Thani provided clean water and long shelf-life food to public health officials and shared garden produce with staff from Udon Thani Hospital. Together with the FMA Past Pupils Union of  St. Mary School,  they organized the initiative, "The bread of love", at the Field Hospital of the Province.
Sacred Heart Community of Ban Pong  prepared sweets, community specialties, and masks to donate to those affected by Covid-19 being treated in the field hospital of the Wimuttayaram pagoda and in the "Baan Bethany" nursing home. Together with the young volunteers of VIDES and the Past Pupils, the FMA went to distribute aid in localities in the area..
Mary Help of Christians Community of Hay Yai gave birth to the "Spirit of Thida # 3: Bringing Comfort During Covid-19″ Project. Together with teachers, parents, and Past Pupils of the Thidanukhro School, survival bags were donated to those most in need, disposable protective suits and masks to those who provide first aid, and medical equipment at the Hat Yai hospital and at the field hospital.
The communities of Mary Help of Christians and Mary Immaculate of Sam Phran prepared weekly baskets with lunch for families in quarantine, in collaboration with the Salesian Family and the religious of the Sam Phran district.
Each Community has also provided assistance to the collaborators of the FMA Houses and Schools affected by Covid-19, periodically delivering necessities to alleviate the shortcomings due to the pandemic situation.