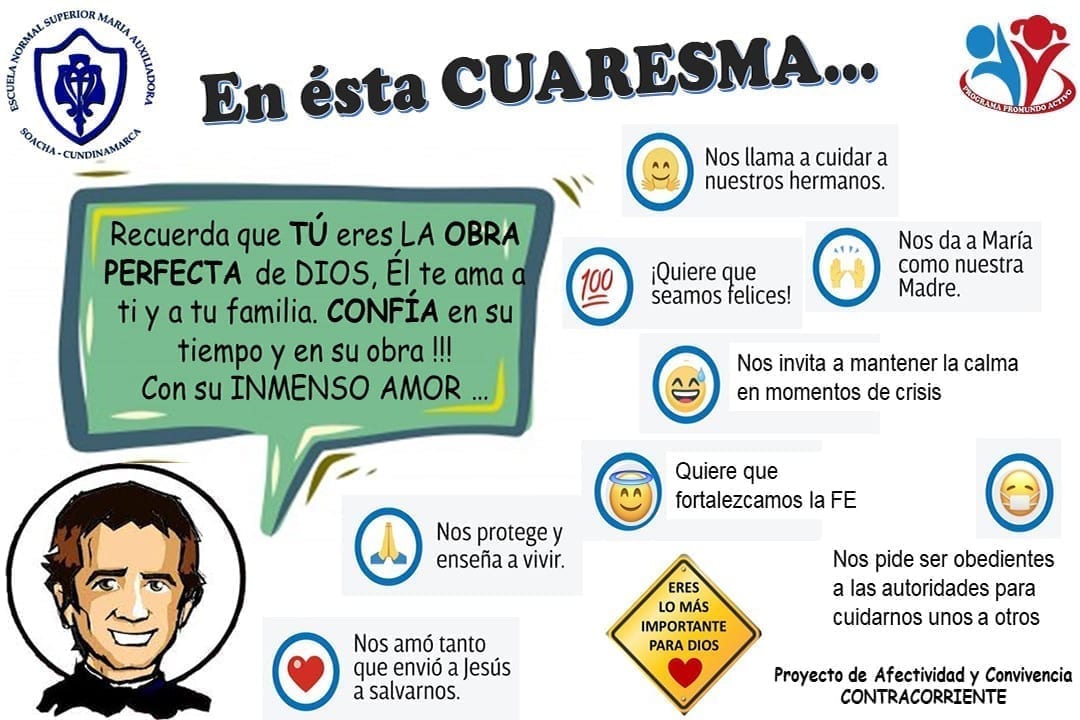 Bogotà (Colombia) In the context of the coronavirus emergency and in the need for mandatory preventive isolation, the Mary Help of Christians Higher Institute of Soacha (Bogotà), of the Colombian Province Our Lady of the Snow (CBN) has implemented several different initiatives to accompany the Educating Community.
The initiative to keep in touch with the members of the EC was born from the area of Psycho-orientation: distance contact, which provides for the development of audiovisual (video) strategies to motivate, guide, and accompany in complex moments such as the world is living today.
The first video produced, "general recommendations COVID-19" proposes indications for the management of the situation and some suggestions for this period of preventive isolation at home, such as compliance with the #Quedateencasa instructions, which recommend preventive sanitation, maintenance of routines, and the creation of fun activities for the family.  In the "Mental Health" video, tips are given to take care of this fundamental aspect for the human being, especially in the quarantine period, which can generate stress, anxiety, and even depression for many people. In this case it is suggested to avoid excessive information, to continue with the daily routine, to reserve moments for reflection and communion with God, to maintain contact with family and friends through video calls and other advice.
Furthermore, the e-mail psicoenscontingenciacovid19@gmail.com was activated for direct communication with the Educating Community. All this, in order to maintain contact with educators, parents, students, and provide them with accompaniment.
In the same way, the Departments of Psycho-orientation and Coordination of Coexistence have worked since the beginning of the school year on the COUNTER-CURRENT affectivity project with the aim of strengthening, accompanying, and orienting student formation in all dimensions of the person. Normally the project consists of organizing seminars and formation, promotion, prevention, treatment, and accompaniment spaces. With the COVID-19 emergency, virtual support was needed to give relief to the preventive indications provided by the Government.
The same Departments also produced audiovisual material that allows them to accompany families and students, disseminated through the Facebook page of the Istituto Superiore Maria Ausiliatrice in Soacha, so that it can also be shared with other people.
Other Departments have joined these projects, such as the Department of Natural Sciences which works to raise awareness of the Sustainable Development Goals that Pope Francis has invited to develop starting from the Laudato Si'  Encyclical and from the Synod of Young People.
These initiatives are an opportunity to support the educational processes that each family is trying to carry out starting from their home, as a primary environment for defending and promoting life, in line with Don Bosco's Preventive System, with the Pastoral Proposal " Generation 2020 " and with the guidelines of the Catholic Church and the Government of Colombia.