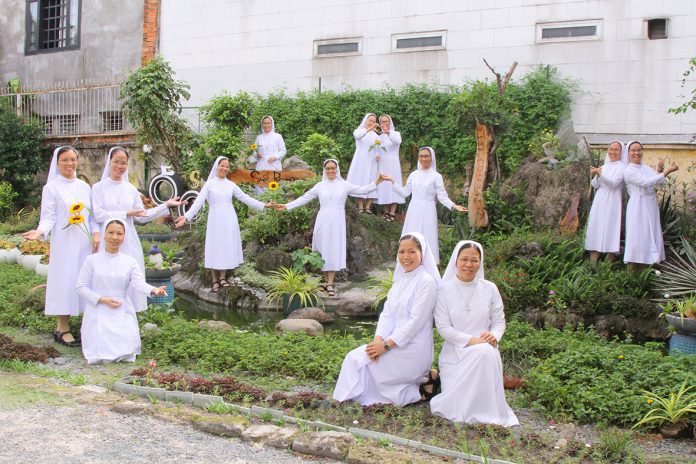 (Vietnam). The FMA of  Mary Help of Christians Province of Vietnam (VTN), with gratitude for the gift of Consecration to God in the Institute of the Daughters of Mary Help of Christians, celebrated the renewals of religious profession,   First Professions, and  Perpetual Professions.
On 3 August 2021, 69 FMA Temporary Professed Sisters renewed their  vows in their respective local communities with the approval of the Mother General of the FMA Institute, Sr. Yvonne Reungoat, because of the health emergency due to the Covid-19 pandemic. In different contexts, the Temporary Professed experienced the joy of their own "yes" in an atmosphere of communion.
With the motto "I will proclaim that your love is faithful forever" (Ps 89:2), on 5 August 2021, 12 young women made their First Profession. In response to the Father's Love, they read the formula of Profession, expressing their free donation to God and to young people and the commitment to live the Evangelical Councils according to the Constitutions of the FMA Institute.
The celebration of Perpetual Profession for 13 FMA of the VTN Province, took place on 15 August  2021, the Solemnity of the Assumption of the Blessed Virgin Mary, with the Gospel verse "Christ lives in me" (Gal 2:20). With Perpetual Profession the FMA commits herself to give herself totally to God, loved above all else, in joyful service to young people, according to the spirit of the Preventive System of St. John Bosco and St. Mary Domenica Mazzarello.
The FMA of the whole Province prayerfully accompanied  the Sisters who celebrated the renewal of Vows,  First Profession, the "yes forever" so that, under the guidance of Mary Help of Christians, they may be joyful signs of God's love for young people, arousing the desire to follow Him.