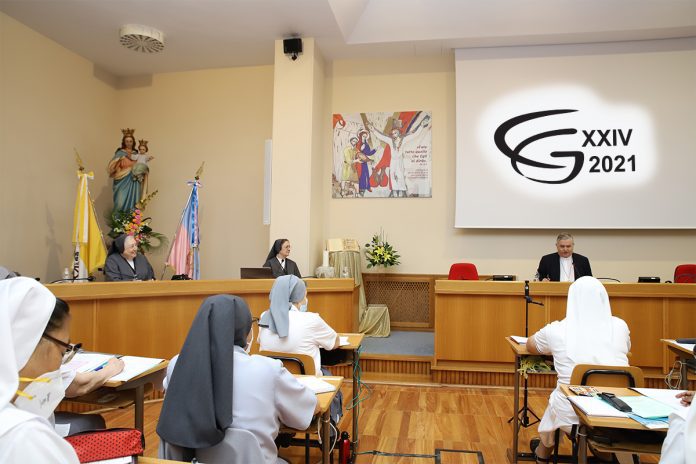 Rome (Italy). The day of 21 September 2021 is enriched by the presence of Msgr. José Rodriguez Carballo, OFM, Secretary of the Congregation for Institutes of Consecrated Life and Societies of Apostolic Life.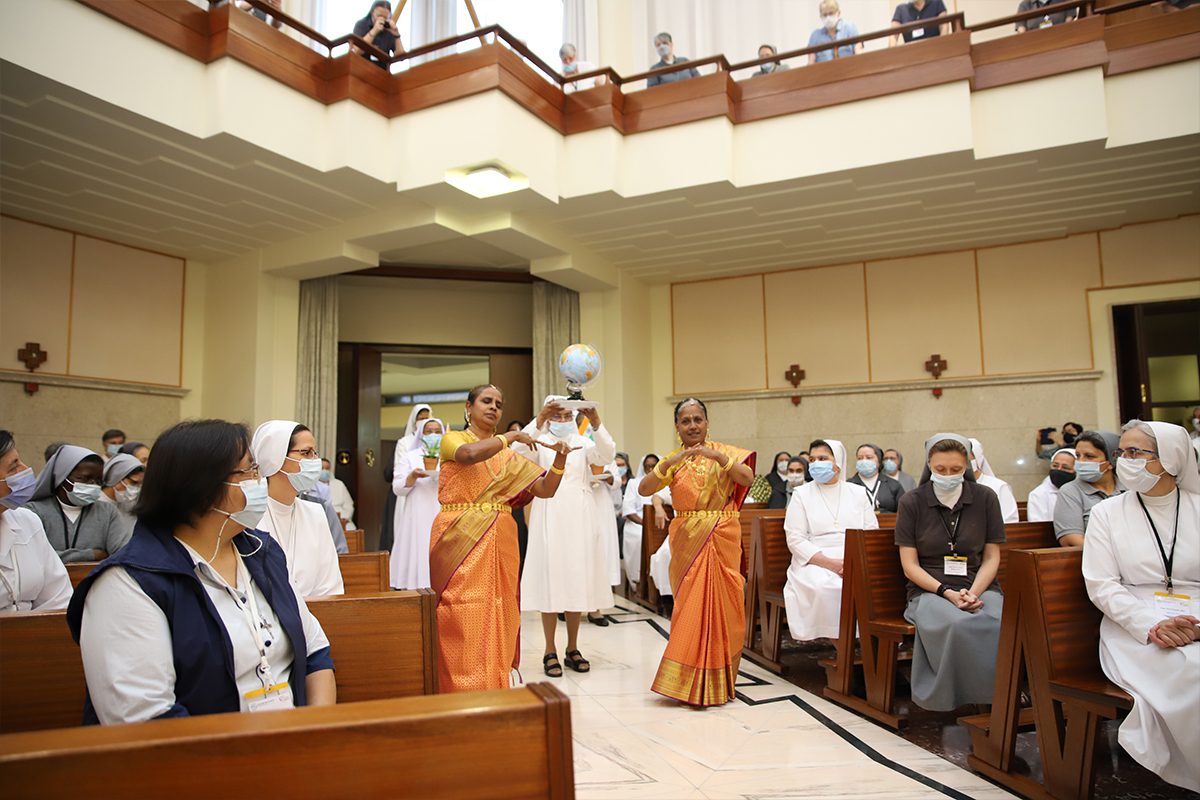 The day began with praise to the Lord in the Eucharistic Celebration. The FMA of the Interprovincial Conference of India (PCI) with a dance, the expression of the interculturality and fruitfulness of the mission, invite the Chapter members to express gratitude for the gift of life and the charismatic mission which continues and is renewed in the 100 years of FMA presence in India.
After invoking the Holy Spirit, Msgr. José Rodriguez Carballo, Secretary of the Congregation for Institutes of Consecrated Life and Societies of Apostolic Life, presents the theme, "The General Chapter as an experience of the Holy Spirit and an ecclesial event  in religious life today", offering the Chapter members a reflection on Religious Life in the heart of contemporaneity.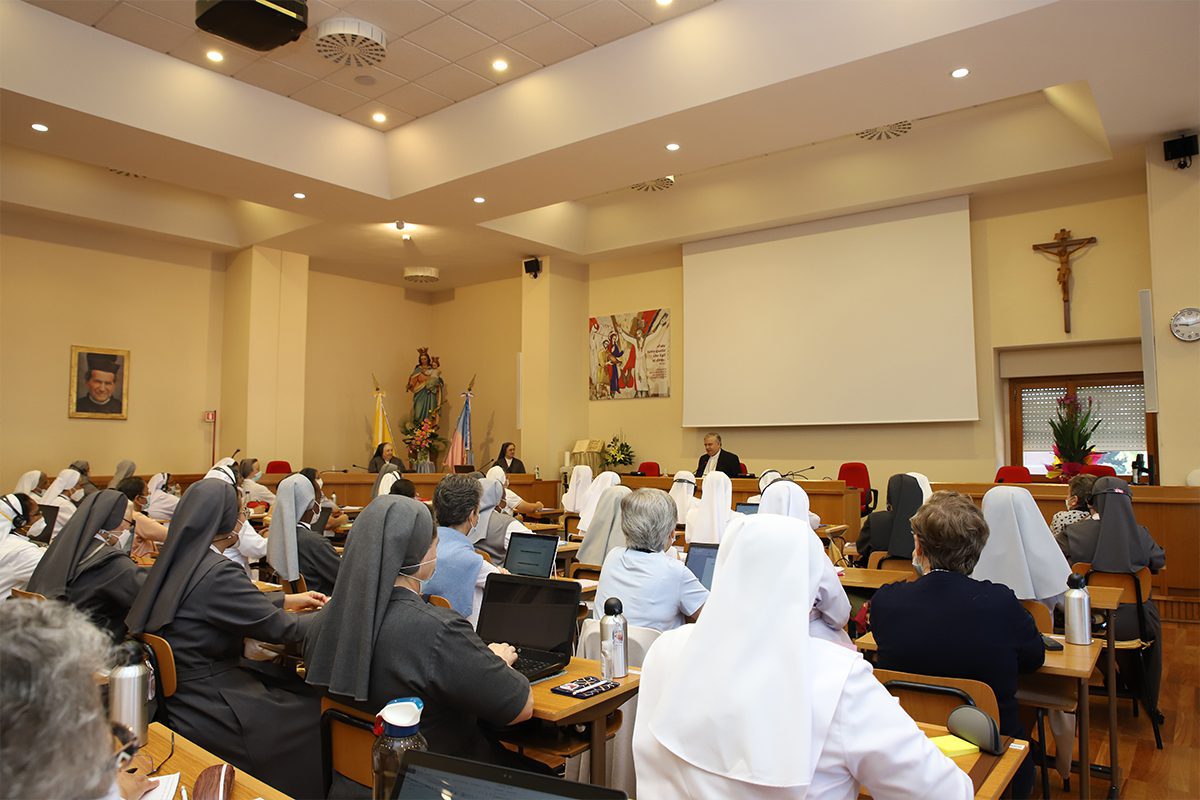 Urging to live in an attitude of listening to the Spirit, seeking the will of God who expects from consecrated life a charismatic presence of closeness, essentiality, and hope,
Msgr. Carballo focuses on some aspects and challenges for consecrated life:
– Recover the capacity for awe: to be aware and grateful for the gift of God, an attitude which is also the first step for prayer; if there is no awe, consecrated life loses its meaning.
– Let your life cry out  charm and beauty, be prophets of hope! Women who trust God and witness to the charm of their own vocation ensure the vitality of the charism in the Institute. Recovering the charm of VC is an important challenge.
– Fraternal life in Community is the prophecy that consecrated life can give to the world today. It is necessary to be builders of fraternal life, not consumers of the community. It is necessary to enter a dynamic of exodus; there is no fraternity without community or community without fraternity.
– Living in the peripheries and listening to the cry of the poor who today need witness, means being faithful to the charism. Give them solid nourishment. Give importance to the Word, to the Sacraments of the Eucharist and Reconciliation, and to the Magisterium of the Church. It is necessary to live an authentic devotion to Mary, welcoming her as Mother and Teacher.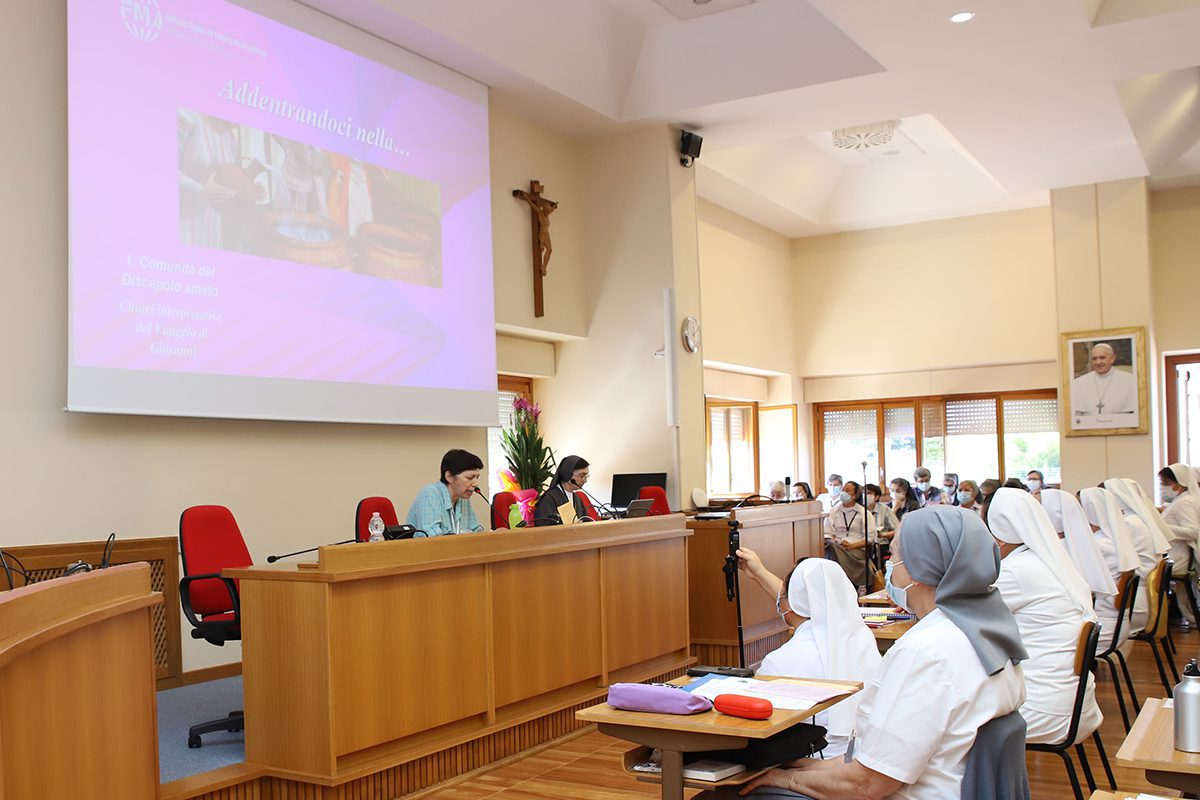 The morning continues with the illumination of Sr. Martha Riccioli, Provincial of the Argentine Province of St. Francis Xavier (ABB) who offers a biblical-theological study on the passage from the Wedding at Cana. In the afternoon, work begins in the Commissions and Sub-Commissions with the personal and community study of the First Nucleus of the Vocational Communities Working Instrument: A Yes that is renewed over time.
At the end of the day, the Chapter members share a significant moment at the Goodnight, listening to the message of the young people, representing the different province realities of the 5 continents, who participated in the Provincial Chapters for the preparation for the XXIV General Chapter.