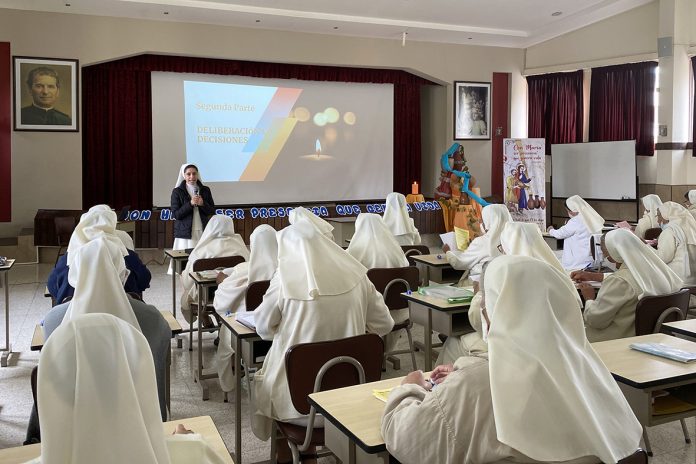 Quito (Ecuador). On 19 and 20 February 2022, Sr. Cruz María Piña, Provincial of Sacred Heart Province (ECU), and Sr. Lupe Erazo, Delegate to the 24th General Chapter, held the last transmission meeting of the Chapter experience lived in Rome from September 17 to October 24, 2021.
Due to the health emergency, the transmission took place through online and face-to-face meetings, organized in different parts of the country, for the Provincial Council, the FMA Communities, and the laity.
In the online meetings, held in November and December 2021 and February 2022, Sr. Cruz Maria and Sr. Lupe shared in a dynamic and synthetic way, the first part of the Acts of GCXXIV, The 'sign' of Cana: prophecy of a creative and courageous presence; a presence that listens, walks together, an 'outgoing' and online community presence. Each community, in the light of prayerful reading and reflection on the text, worked to discern the calls of God on a personal, community, and province level.
In the face-to-face meetings held in Macas, Cuenca, and Quito, the Chapter members took up what they had shared in the online days and presented the three priority choices:  formation, missionary synodality, integral ecology, and deliberation. From the synthesis with the community work carried out previously, the choices emerged with which the contents of the GCXXIV will be brought forward, and the Provincial Project for the next six years will be shaped, to be elaborated in the Provincial Assembly to be held in March 2022.
The joy of the fraternal encounter, the moments of prayer, the richness of the Salesian charism, the spaces for dialogue and sharing, the Eucharist, and the family atmosphere experienced in the days online and in presence, rekindled in each of the FMA of the Province and in the laity, the joy of belonging to an Institute which, under the guidance of the Spirit and with the maternal action of Mary Help of Christians, reaffirms itself in the commitment to be communities that generate life.