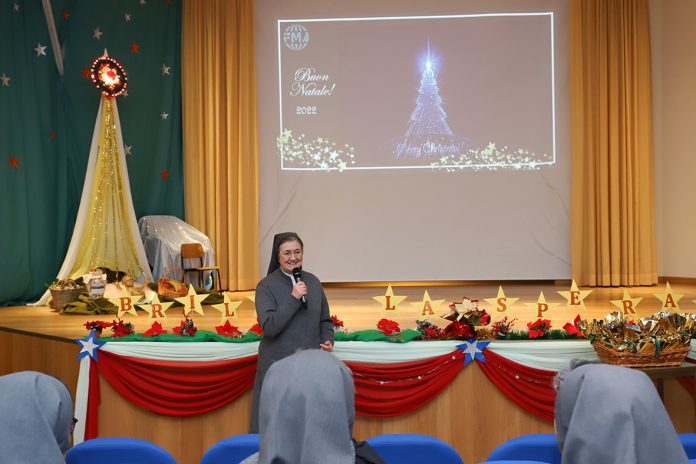 Rome (Italy). On 24 December 2022, Mary Help of Christians Community of the Generalate (RCG) and Sacred Heart Community of the Roman Province of St. John Bosco (IRO), expressed their Christmas greetings to the Mother General of the Institute of the Daughters of Mary Help of Christians, Sr. Chiara Cazzuola, and to the General Councilors.
The theme of hope, with a little story, The green star of hope, acted as a red thread at the time of greetings. The protagonists of the narrative are colored stars who, descending to earth, find misery, injustice, and sadness, and for this reason they return to heaven. All except one, the green star, who decides to remain among the people, alongside human pain, to bring hope to humanity.
"Christmas is the deepest gesture of love that God wanted to choose with creativity and pour into the hearts of all the men and women of the world." This is the phrase that began the different greetings from the four continents of belonging of the Daughters of Mary Help of Christians present in the Generalate:
the Swahili singing of Africa and Madagascar; the representation, commemorating the 150th anniversary of the Institute of the Christmases in Mornese and Nizza, made by the American continent; the dance of communion and peace with the colors and harmonious gestures of the sisters of Asia; the poem, Star of Bethlehem, of the European continent, to go to the crib of Bethlehem with a simple and poor heart.
Each continent had the unprecedented 'surprise' of a short video of greetings sent by each of the Provincials of the Provinces of origin of the sisters who live in the Generalate.
At the conclusion of the various cultural representations of Christmas, to keep the star of hope alive in their hearts and make it shine in the encounter with the people, the two communities united their joyful voices in the song 'Christmas Star'.
The Mother General, Sr. Chiara Cazzuola, thanked for the creativity of this moment, "You really made us feel all the greatness and beauty of our Family, in the expressions with attention to the smallest details. And then, the idea of links with the Provinces is wonderful; they make us feel even closer." Then, Mother and the Councilors offered their song.
With the exchange of gifts, this family encounter concluded by waiting for the Lord Jesus, preparing to experience together the Eucharistic Celebration of the Holy Night of Christmas.