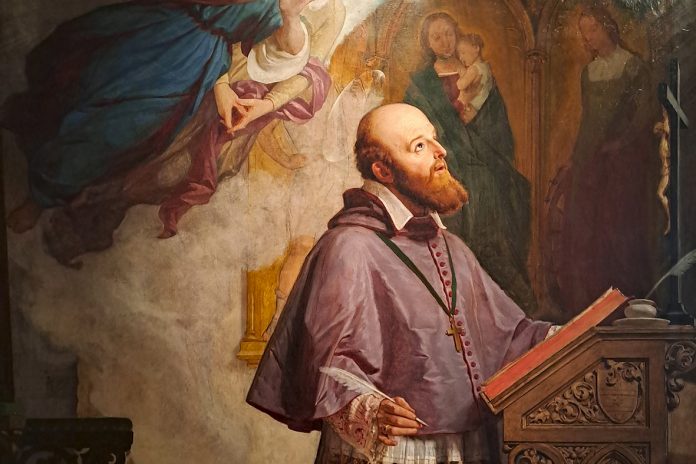 Rome (Italy). On 24 January 2023, the Salesian Family celebrates the Feast of Saint Francis de Sales, wanted by Don Bosco as patron of the Institute of the Daughters of Mary Help of Christians. A few days from the 150th anniversary of the birth of Venerable Sr. Laura Meozzi (5 January 1873 – 30 August 1951), Daughter of Mary Help of Christians, pioneer in Poland, a letter she wrote to the Sisters of the then Polish Preprovince in January 1934 highlights her spiritual bond with St. Francis de Sales.
My dearest Sisters,
We are at St. Francis de Sales and I feel the need to send you my heartfelt and cordial greeting, my vivid remembrance in prayer to obtain for me and all of you the gift of sweetness, so necessary to be able to do good around us, to attract many hearts to Jesus, our heavenly Spouse. Sweet with our sisters, agreeing in what we can or, if we have to say 'no', say it so sweetly that the 'no' is liked more than a 'yes', because it is understood that only necessity or duty makes us say 'no'.
Be always calm, always serene even in the most critical circumstances, even when our patience is put to the test.  Oh, yes, how comforting it is to find around us people who bring serene joy!  Let us make this resolution and our house will always be heaven on earth.
I pray for you and you pray for me, my dearest whom I always carry in my heart.  May St. Francis give us his sweetness. Let us remember his saying, "We can attract more flies with a drop of honey than with a barrel of vinegar." Let us ask for this sweetness with insistence and let us love our Spouse Jesus very much.
I greet you all with the affection of my soul and heart.
Like every daughter of Don Bosco, during her years of formation Mother Laura had learned to value the teachings of the Holy Doctor of Divine Love, but perhaps she had known him even before entering the Institute. In fact, already in 1887, when the church of the Sacred Heart of Jesus was consecrated in Rome, Castro Pretorio, Laura lived in the area and began to frequent it and to confess regularly to Fr. Federico Bedeschi, Salesian of Don Bosco, who guided her in her vocational discernment.
The Apostolic Letter of Pope Francis "Totum Amoris est", published on the fourth centenary of the death of St. Francis Di Sales, retraces some of the fundamental traits of his experience and spiritual heritage:
[for St. Francis de Sales] "The experience of God is evidence of the human heart. It is not a mental construction, rather it is a recognition full of amazement and gratitude, consequent to the manifestation of God. It is in the heart and through the heart that the subtle and intense unitary process takes place by virtue of which we recognize God and, together ourselves, our origin and depth, our fulfillment in the call to love.
We discover that faith is not a blind movement, but above all an attitude of the heart. Through it we entrust ourselves to a truth that appears to the conscience as a "sweet emotion", capable of arousing a corresponding and indispensable benevolence for every created reality, as he loved to say.
Since she was a girl, Laura Meozzi had a profound experience of God that flourishes in faith, in habitual trust in God, and in the ability to bear the weight of fatigue and trial with gentleness and patience. The testimonies collected in the "Positio super virtutibus" affirm:
Sr. Władysława Rudzka, who was among the first orphans welcomed in Różanystok and then a Daughter of Mary Help of Christians, writes: "Mother Laura was a soul of living faith. It was a faith she drew from the Eucharist. She was a soul of prayer; she lived lost in God. In all events and circumstances, she discovered God's will and totally adhered to it. In difficulties and sufferings, she always had on her lips expressions of perfect Christian resignation: 'The Divine will be done'. 'The Lord tests those who love Him', and others like this".
The young people themselves and the lay people who knew her closely, from her attitude in prayer, her trust in God, and the teachings and exhortations she addressed to them with a few simple words, define the quality of her faith: "Mother Laura lived a very deep faith"; "She was a person of a very lively faith"; "Her lively faith manifested itself in a particular way in her attitude, behavior, and way of being. [ …] I had the impression that she was a person of deep faith."
The doctrine of the Holy Doctor, also through the spiritual and apostolic experience of Don Bosco, Mother Mazzarello, Mother Laura, and many others, reaches each one as a heritage from which to draw inspiration for one's own journey. And it becomes an unmistakable lifestyle for action that permeates an environment, transforming it as 'Salesian'.