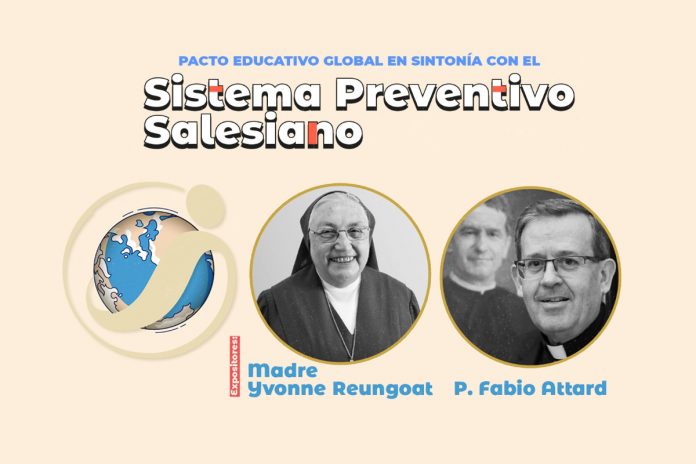 America. On 10 and 11 November 2022, the Salesian School in America (ESA) organizes the First Continental Online Seminar on the Preventive System and the Global Educational Pact.
Pope Francis' appeal on the Global Educational Pact calls upon the Salesian Family to embody the Preventive System with renewed passion, a fundamental characteristic and specific contribution that the Salesian Schools are invited to offer to today's society.
The invitation to participate in this space of reflection, communion, and synodality around the Care of the Common Home is open to teachers, Directors, and collaborators of the Salesian schools and educational environments of the American continent and beyond.
After the greetings of the World Councilors for Youth Ministry, Fr. Miguel Ángel García, Salesian of Don Bosco; and Sr. Runita Borja, Daughter of Mary Help of Christians, the program of November 10 foresees the Conference of Mother General Emeritus of the Institute of the FMA, Sr. Yvonne Reungoat, on the theme, "Global Educational Pact in Harmony with the Salesian Preventive System". Following this, there is the presentation of the good practices of the Interprovincial Conferences CINAB and CICSAL and of the Rede Salesiana Brasil (RSB).
On 11 November, after the initial greetings of the Superior General of the FMA Institute, Mother Chiara Cazzuola, and of the Councilor for the South Cone Region, Fr. Gabriel Romero, SDB, Fr. Fabio Attard, SDB, Coordinator of the Formation of Salesians and Laity in Europe, will hold a conference on the theme: "Rebuilding the Global Educational Pact and its Harmony with the Preventive System". The good practices will follow this of the Andean and Southern Cone Regions, the CIMAC Interprovincial Conference, the Daughters of the Divine Savior (HDS) and the Daughters of the Sacred Hearts of Jesus and Mary (HH SS CC).
Present will be the Referents for the School, Sr. Ivone Goulart Lopes, from the Youth Ministry Sector of the Institute of the Daughters of Mary Help of Christians, and Fr. Claudio Cartes, from the Dicastery of Youth Ministry of the Salesians of Don Bosco.
The event will be broadcast via the YouTube Channel in four languages: Spanish, Portuguese, French, English.
To participate in the seminar, enroll on this link: