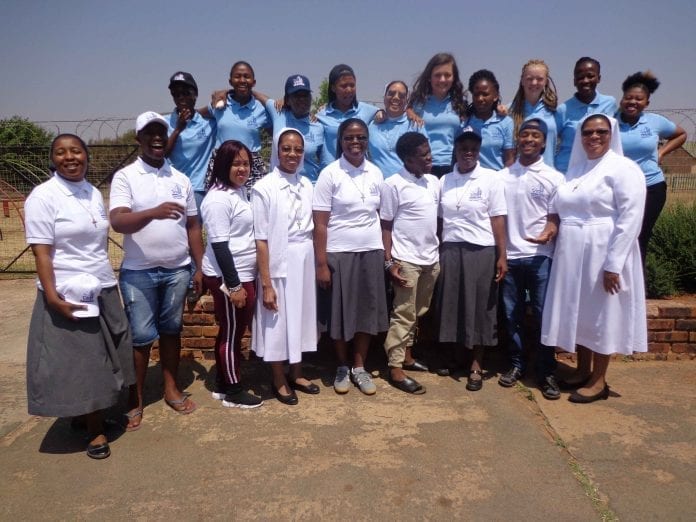 Lusaka (Africa) On 3-8 October, 2019 in the Mornese Community of Lusaka, more than 50 young people coming from all of Zambia (Luwingu, Kasama, Mansa, and Mazabuka) gathered with enthusiasm and joy to discover the message of VIDES.
Sr. Annecie Audate, General Director of VIDES International, guided the young people in a process of discovering their common difficulties.  Using the methodology called "Appreciative Inquiry of the 4Ds (Discover, Dream, Develop, Destiny)", the young people indicated an ideal world and created a plan of actions needed to reach it.
Topics such as the identity of the volunteer, interculture, empathy, harmony, freedom, and the environment were studied in depth with Sr. Annecie during all the phases of the Seminar.  In addition, the young people together with the Salesian Sisters present at the Seminar, starting from what they learned through the teaching material received from VIDES,  accomplished various creative presentations animated by the spirit of Don Bosco. "Dear Zambia, VIDES has arrived!" This is the message launched by the young participants desirous of becoming the 63rd member Country of VIDES.
The second Seminar on the same theme "Promote Youth Empowerment through Volunteering," took place in South Africa on October 9-11, 2019.
Participating in this were Sr. Annecie Audate, 2 volunteers from the United Kingdom, 17 young people of the place, and 4 Daughters of Mary Help of Christians coming from South Africa and Lesotho.
Sr. Annecie ideated this Seminar as well with the aim of offering the young the experience of volunteering, providing them with spaces for leadership that will help them to be free and responsible citizens, committed together with others, to promote and defend human rights and the building of a culture of solidarity, justice, and peace.
During the Seminar the strong need felt by the young people to meet and compare with others emerged, considering differences as wealth. Furthermore, the young people stressed the importance of building bridges of solidarity with the aim of creating a more just and supportive society.
Participation in the proposed activities was lively and full of enthusiasm.
The young people and the FMA were especially grateful to Sr. Annecie for her presence and for having led them to the discovery of VIDES through an interactive sharing of the life and missionary experiences of the various VIDES groups in the world and proposals for the future.
At the end of this seminar the young people felt the strong desire to create a local VIDES group to bring joy, hope, and love to those in need.