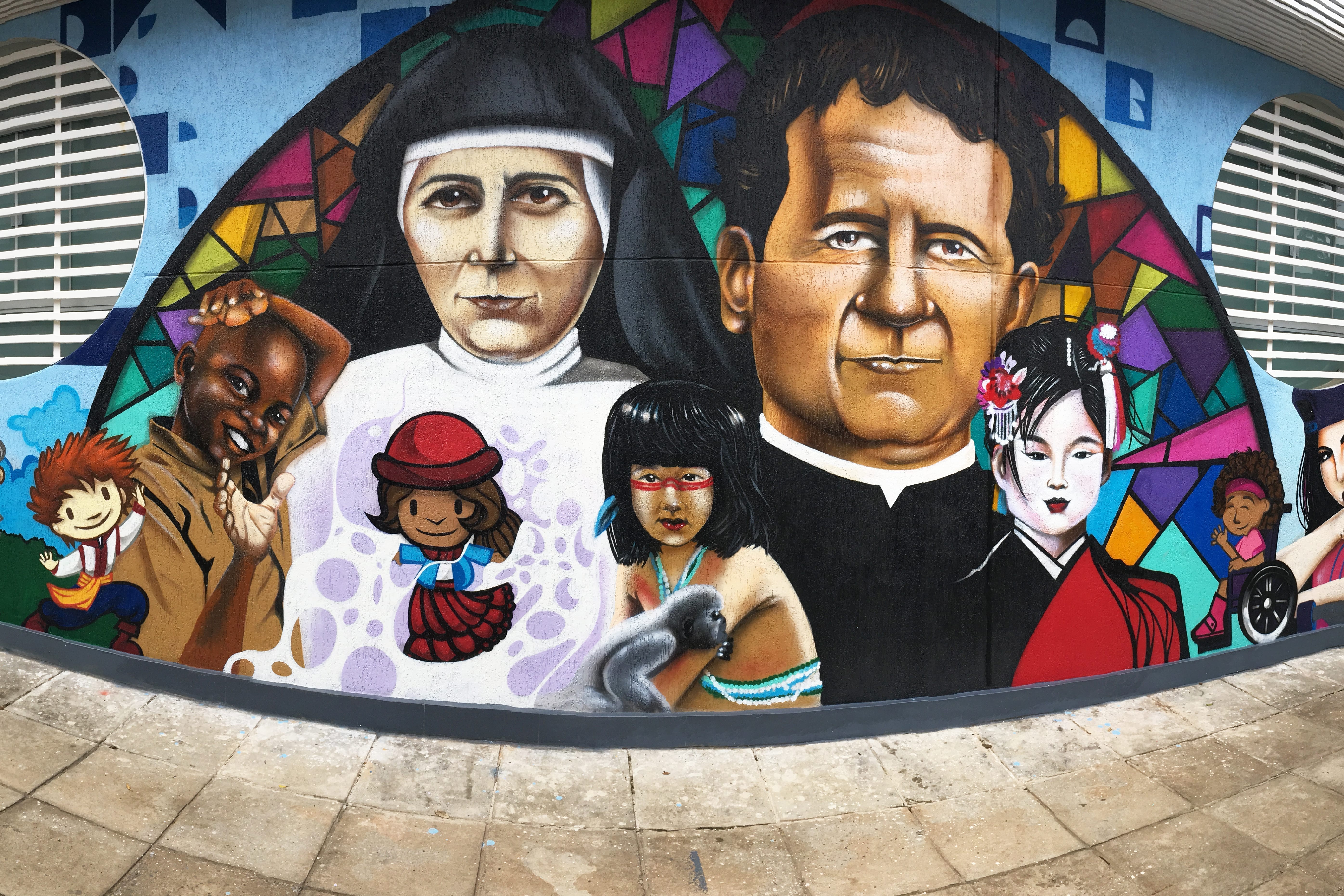 Brasília (Brazil) The headquarters of the Salesian Rede Brasil (RSB) in Brasília of the Provinces of the Daughters of Mary Help of Christians and of the Salesians of Don Bosco in Brazil, has a new look. During the month of March, the street artist Rivas, together with his team, created a large graffiti on the exterior wall of the building. The initiative was born both from the concrete need to renovate the facade, following the restructuring of the internal rooms and facilities of the headquarters, and to give visibility to the Salesian charism in the area.
The choice of the subject came from a proposal by Father Augusto Bartoli, SDB, who, inspired by Don Bosco's Biographical Memoirs, suggested some elements that could not be missing in the drawing. The artist Rivas, who had previously collaborated with CESAM-DF, the Salesian Apprenticeship Center, welcomed and integrated his proposals into the graffiti project.
Sister Silvia Aparecida da Silva, FMA, Executive Director of RSB, interviewed by RSB Communication, thus tells the stages of the creation of the graffiti: "When the design began to take shape, we gradually came into contact with the art and lines and the colors coming from the hands of Rivas and the other artist Elom. Every day was a surprise! As we watched the artists working, we received a lot of appreciation from the people who passed by there. The certainty of the goodness of the initial intuition, gradually grew: it was not just a painting on the wall, but it would really become the expression of the Salesian charism. In the end, the result was to see Don Bosco and Mother Mazzarello surrounded by young people from all over the world, with the blessing from the Help of Christians of the Basilica of Turin, who travels the world and the times to reach the Shrine of Don Bosco in Brasilia. May Don Bosco and Mazzarello inspire us in carrying out our mission as a Salesian Network in Brazil! "
Rede Salesiana Brasil is the Salesian Network which includes the Schools, Universities, Pastoral Care, Social Works, and Communication of the Provinces of the Daughters of Mary Help of Christians and of the Salesians of Don Bosco in Brazil, with the aim of promoting and animating the educational project – Salesian pastoral care in Brazil in a coordinated way, spreading the Preventive System, the educational values of Don Bosco and Mother Mazzarello.