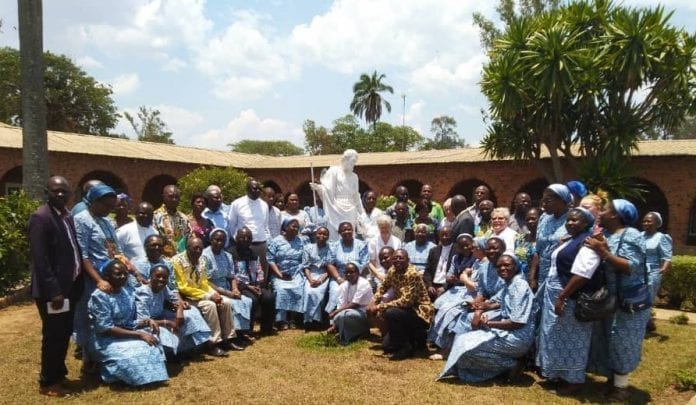 Kafubu (Democratic Republic of the  Congo).  The Chapter began with a time of relaxation on the 'Main' farm, at about five kilometers from Kafubu.  The sisters were very happy to see the expansion of this work.  The day ended with the recitation of the Rosary that marked the conclusion of the triduum in preparation for the Provincial Chapter.
The Provincial Chapter opened on October 21 with a solemn Eucharistic celebration presided by Msgr. Gaston Kibilo, Vicar General of the Sakania-Kipushi Diocese, representative of Bishop Gaston RUVEZI.  Attending this Mass were also various sisters and representatives of every branch of the Salesian Family.
After Mass, all the participants gathered in one of the rooms of the Novitiate for the official opening of the Chapter.  The Provincial, Sr. Marie Dominique Mwema in her opening words reviewed the objectives of the Provincial Chapter.  The morning concluded with the family photo and a fraternal sharing with all the guests.
In the afternoon, Sr. Marie Dominique presented the report with the evaluation of the life of the Province during the 2015-2019 period, and restated the general objective of the 23rd General Chapter: "Broaden your vision, with the young, missionaries of hope and of joy."
Immediately after, the various commissions presented their reports that helped in understanding and knowing the lights and shadows of the apostolic mission.
A Divine Lectio daily introduced the Chapter reflections so that all the planned activities would take place in an atmosphere of serenity and faith.  In the course of the days, the participants met in various groups to study the three questions of the General Chapter.  They then suggested some prospects for the future of the AFC Province and for GC 24.
At the end, the chapter assembly elected the Delegate to the General Chapter and the substitute.  This very important moment was preceded by a time of Eucharistic adoration.  The persons elected were: Sr. Clarisse Ngoy Mongyumba, Delegate and Sr. Léontine Sonyi Ithweva.  The Chapter ended with the words of Sr. Marie Dominique and the Solemn Mass presided by the SDB Provincial, Albert Kabuge.