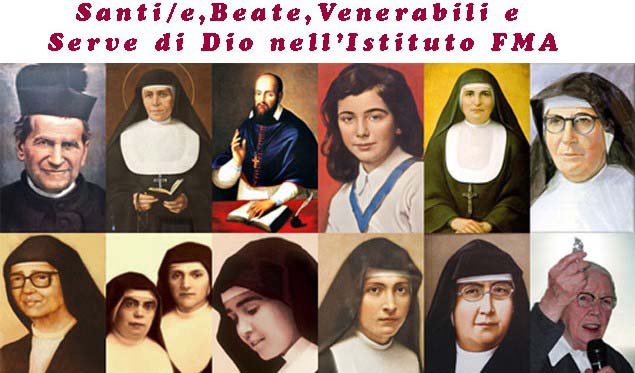 Rome (Italy). An initiative to value in the educating communities, on the 3rd of every month on the Institute Web Site, there will be published a study on the theme: Accompaniment of young people. Saints, Blesseds, Venerables, and Servants of God in the FMA Institute. In line with the Synod on: Youth, Faith and Vocational Discernment (cf. Working Document Nos. 213-214), we wish to share a monthly reflection on the journey of accompaniment in the youth of our Saints, Blesseds, Venerables, and Servants of God. An International Commission of our Sisters was formed, coordinated by the General Councilor for the Youth Pastoral Sector, Sister Runita Borja; by the Vice-Postulator of our causes, Sister Sylwia Ciezkowska; and by the Secretary General, Sr. Piera Cavaglià. The character of these reflections is informative, so as to be able to be shared also with the young, the lay people of the educating communities, and with the groups of the Salesian Family.
We identity these aspects in each figure:
Accompaniment experiences in family life and in other environments
Knowledge of the FMA Institute (such as mediations, difficulties encountered, etc.)
Discovery of the vocation
Life totally given to God and to the mission up to religious profession.
Every month we will be accompanied by one of our "friends" of Heaven, thanks to the contribution of the sisters who will present her to us:
Mary D. Mazzarello – Sr. Eliane Petri (October 2018)
Ven. Teresa Valsé – Sr. Sylwia Ciezkowska (November 2018)
Blessed Maria Romero – Sr. Ana Victoria Ulate (December 2018)
Blessed Laura Vicuña – Sr. Susana Billordo & Sr. Silvia (ABA) January 2019
Blessed Eusebia Palomino – Sr. Giuseppina Teruggi (February 2019)
Venerable Laura Meozzi – Sr. Sylwia Ciezkowska (March 2019)
Servant of God Antonieta Böhm – Sr. Birgit Baier (AUG) April 2019
Blessed Maria Troncatti – Sr. Nancy Quilambaqui (ECU) May 2019
Blessed Maddalena Morano – Sr. Francesca Caggiano (IMR) June 2019
Blessed Spanish Martyrs – Sr. Sylwia Ciezkowska (July 2019)
We wish you good reading and sharing! The Commission
Mary Domenica Mazzarello. A youth lived in the fullness of love
Enjoy yourself while you are young, make the most of the days of your youth". (Eccles. 11: 9)
Mary Domenica Mazzarello, familiarly called Main, is a simple, normal young woman, full of life and dreams, of faults and weaknesses, like so many other young people of her time. In this sense she is very 'close' to us, becoming a companion on the path of holiness. She testifies that holiness is possible, is beautiful, is the fullness of life. We tiptoe into her life story to find out how she lived her youth and what message she gives to us today.
She was born on May 9, 1837, at Mornese, Alessandria in High Monferrato, Piedmont, into a family of farmers and authentic Christians. From the beginning, Main received a deep human and Christian formation. For her, the family, was the first school of faith, of humanity, of socialization. Her parents had characters different from each other, and found their unity in the faith, completing each other in the education of their children. From them Main inherited a solid faith and love for life. From her mother she learned sincerity and generosity, courage in facing life with ease and humor, and a filial love for Our Lady. She was the first born of thirteen children and was a faithful and hardworking collaborator for her mother in the education of her sisters and brothers.
As she grew, she also became the right hand of her father in the field work. Papa Joseph, whom she loved very much, left an indelible mark on her life. She herself recognizes that if there is any virtue in her, anything good, she owes it to him. In fact, it was from her father that she learned to internalize the Christian vision of life. She herself remembers that as a child she had asked him a question: "Papa, what did God do before creating the world?". The response of her father remained impressed on her mind for her whole life: "God contemplated Himself, loved Himself, adored Himself". In this way, Joseph collaborated in opening wide the horizons of life and of faith to the daughter who felt immersed in the mystery of God, and learns to discover Him present in history, a Father God, lover of life, who speaks in the intimacy of the heart. In this rich drama of family relationships, Main learns to accept life as a gift to share and as a mission to carry out.
To the education of her parents is added, during the years of her adolescence and youth, the wise and prudent accompaniment of Fr. Dominic Pestarino. If today we recognize the holiness of Main, we must also thank this holy priest, her spiritual guide for 27 years. Main was not born a saint. Like everyone, she had qualities and defects. She lived her adolescence with all the risks and potential that this age brings with it and with the ardor of a heart at this time of life. From the human-psychological point of view, she is a young woman with a decisive and honest temperament, intelligent, intuitive, lively, ardent. She has a clear mind and a healthy affectivity, with a reflective and joyful nature. She is enterprising, endowed with a great capacity for communication, characterized by a sense of realism and of good humor.
From the spiritual point of view, she is formed to a deep Christian life. She relishes the contemplation of nature; she is actively involved in farm work and in the apostolate. Her spirituality is characterized by a solid piety that is more interior than exterior, by simplicity, joy, concreteness of life, and generosity in giving herself to others… continue reading here