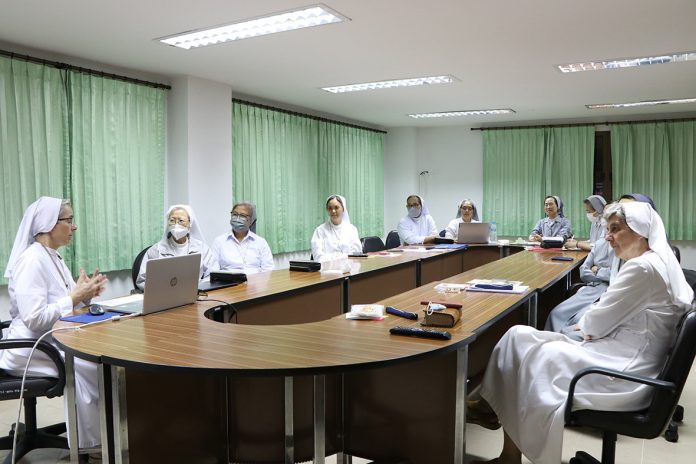 Samphran (Thailand). On 23 and 24 September 2022, at the Ban Than Phraphon Meeting Center in Samphran, the Provincials of the 11 Provinces of the Interprovincial East Asia Conference (CIAO) met in the presence of Sr. Maria Assunta Sumiko Inoue, Visiting Councilor, contact person for CIAO, and of Sr. Lidia Strzelczyk, Visiting Councilor of the Provinces of Korea and Vietnam.
The aim of the meeting was the presentation of the Program of the FMA Institute for the six-year term 2022-2027, and the post-Chapter journey of the Provinces that are part of the CIAO Conference.
In her intervention, Sr. Maria Assunta Inoue, highlighted that the Conference is a "place of dialogue and of integration, of sharing and of proposals, of seeking common Journeys," and therefore, has an important role in the animation and government of the Institute and in the involvement of all the members of the Educating Communities of the world.  Her words encouraged the Provincials present for the first time at this Conference meeting.
Sr. Alma Castagna, Provincial of St. Mary D. Mazzarello Province of Timor and Indonesia (TIN), President of CIAO, chaired the meeting and guided the revision of the Statute, encouraging the participants to give their own contribution with suggestions for possible modifications.
During the meeting there was also the presentation of the activities carried out by the CIAO Conference before the pandemic during the 2015-2021 six-year term and those which could not be achieved, to give continuity to what could be done in the next six years, taking into account the guidelines of the 24th General Chapter.
This first meeting was a time of knowledge and sharing between the Provincials, who recognize the importance of responding to requests for synodality and communion.