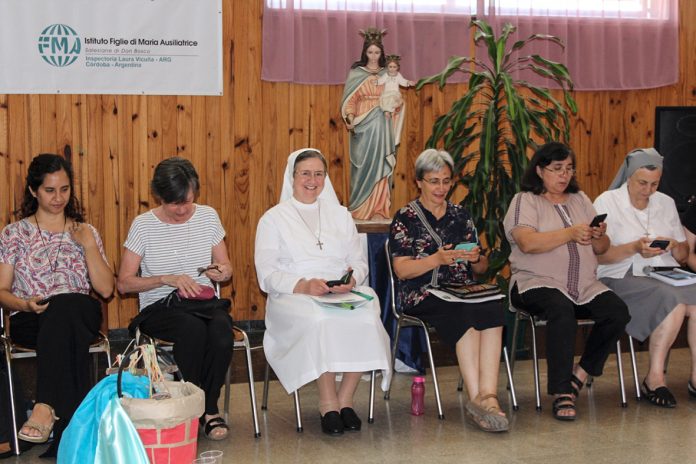 Córdoba (Argentina). On 30 January 2023, on the 2nd day of the Visit to Argentina – on the occasion of the official opening of the unified Province Laura Vicuña (ARG), scheduled for 31 January, the Superior General of the Institute of the Daughters of Mary Help of Christians, Mother Chiara Cazzuola, met the Animators of the Communities and the Provincial Councils in Córdoba.
The day began with a moment of prayer, then Mother spent the morning engaged in personal encounters with the Sisters. In the afternoon, the FMA Animators of the Argentine communities and the Provincial Councilors gathered in the hall, set up with the symbols of the well of Mornese and a representation of the Communities present throughout Argentina, for a dialogue with Mother Chiara.
On their last day at the service of the individual Provinces, the three Provincials, Sr. María Elena Fernández of St. Francis de Sales Province (ABA); Sr. Mariel Martínez of St. Francis Xavier Province (ABB); and Sr. Adriana Silvia Gómez of Our Lady of the Rosary (ARO) greeted and thanked her for her presence in this particular historical moment.
Subsequently, each Animator introduced herself with her name and the community she belongs to… and little by little they all made the 65 presences in the country visible.
"You are important; you are the meeting point between the Provincial Community, your Communities, and with the Institute," were the only words with which Mother greeted and encouraged the Sisters. Most of her discourse was then aimed at supporting the process of resignification. "It is a 'redesign' of the journey, a return to the Charism to look at the present and project into the future with hope, with the trust of being in the hands of the Lord. It is a gesture of great daring because there is always the risk of leaving things as they are."
The last part of the meeting was dedicated to questions, to which Mother and Sr. Leslie Sándigo, General Councilor, answered simply, after having listened to the Sisters attentively.
During the Eucharistic Celebration presided over by Fr. Gabriel Romero, Salesian of Don Bosco and Visiting Councilor, the future Provincial, Sr. Silvia Boullosa brought to the altar the fount with the water used during the encounter, a sign of the commitment of the Animators to animate the life of the Communities aiming at unity. After communion, the Celebrant blessed the water, handing it to Mother to bless the Sisters, the laity, and the young people present. The day ended with dinner together and preparations for the historic event of January 31st.
Photo: FlickrFMA