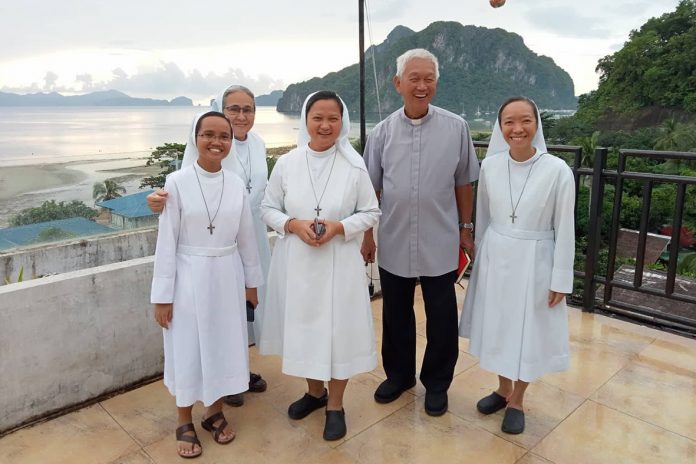 Philippines. On 24 July 2022, the day Mary Help of Christians is remembered, four Daughters of Mary Help of Christians from the Province of St. Mary D. Mazzarello (FIL) of Philippines-Papua New Guinea went to learn about a new frontier of the evangelizing mission in the Apostolic Vicariate of Taytay, located in the province of the Palawan archipelago.
This first experience is in response to the request to the FMA, by Msgr. Broderick Pabillo, Apostolic Vicar of Taytay, to help form catechists, animators, and experts in social communication at the level of the Vicariate.
Taytay is a municipality on the shores of the island of Palawan. The Vicariate – which includes 31 parishes on the mainland and on the islands, with missionary centers divided into 7 districts – focuses on three pastoral priorities: management, the basic ecclesial community, and the catechetical ministry.
The FMA, who belong to Blessed Laura Vicuña Community of Macarascas, Puerto Princesa, Palawan, will for a period constitute a presence ad experimentum in Taytay.
The Bishop's invitation came following the 24th General Chapter, which in the priority choices exhorts the Institute to be "Mornese in outreach", to be "prophetic missionary communities" and to "give new impetus to the first proclamation of Jesus, to evangelization, and to pedagogical, pastoral, catechetical, and communication formation, according to the Christian anthropological vision" (Acts GC24, 39).
Faced with contemporary poverty, shortage of catechists and youth leaders with the necessary skills, and lack of a systematic program of formation, the FIL Province, as a gift to the FMA Institute on the 150th anniversary of Foundation, made the courageous decision to relieve some FMA from their previous posts to send them to this new frontier. This first sending ad experimentum of the Sisters in the Vicariate coincides with the start of the 400th anniversary of the Christianization of the island. The intention of the Province is to stabilize the presence at a later time.
The "FMA of the new frontier" feel strongly accompanied by Mary and undertake with a generous heart and with enthusiasm the path that the Spirit will suggest, despite the challenges that await them. We entrust this new mission to Mary, with the certainty of her attentive, active, and caring "presence".