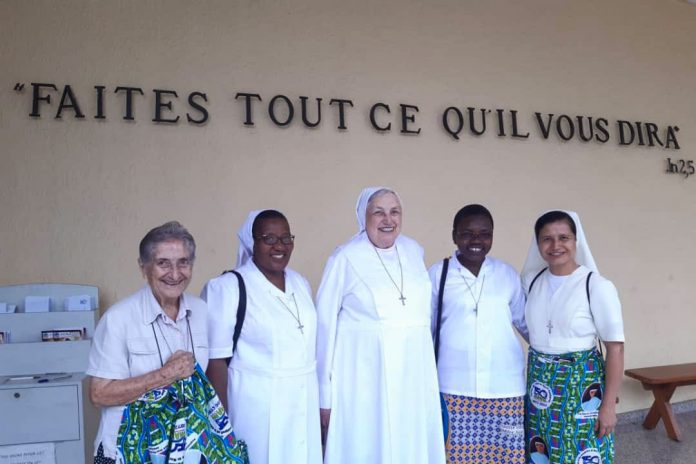 Abidjan (Ivory Coast). From 8 to 16 August 2022, the Emeritus Mother General of the Institute of the Daughters of Mary Help of Christians, Sr. Yvonne Reungoat, visited Mother of God Province (AFO) of French-speaking West Africa. The visit to African land took her in the previous days to the Province of St. Mary D. Mazzarello of Equatorial Africa (AEC) where from July 27 to August 4, she led the Sisters' Spiritual Exercises.
On 8 August she arrived in Abidjan at the Mary Domenica Mazzarello Village, warmly welcomed by the communities of the Provincial House and the Novitiate. All the Animators, who on 5 August had participated in the inauguration ceremony of the Provincial, Sr. Yvette Badini, took part in the reception of Mother General Emeritus. On the face and gestures of Mother Yvonne, who from 1991 to 1996 was the first Superior of the then Preprovince of Mother of God, there was great joy at having returned there.
A young FMA, dressed in the traditional way, pronounced words of blessing towards the pioneer of the Province, before pouring the holy water on the ground. Mother Yvonne then walked in the water poured on the ground, as a sign of acceptance of the welcome reserved for her. The FMA then accompanied her in procession to the Marian grotto just outside the house, for a prayer to Mary Help of Christians, Guide and Teacher.
At the end of the prayer, the procession of FMA and Novices went towards the entrance of the House where she was offered a coconut extract with a word of welcome, before continuing the welcome rite in the Chapel to entrust the visit to God and thank Him for permitting this encounter.
During her visit, Mother Yvonne met with the Provincial Council, the Community Animators, the young FMA in presence and online, and the Novices.  She also visited the Salesians of Don Bosco and dedicated much time to receive the Sisters personally.
On the morning of 13 August, accompanied by the Provincial and some Sisters, she went to the Marian Shrine of Our Lady of Peace in Abidjan.  There she entrusted the Province to the Virgin Mary, asking her for the great gift of peace for the Countries that constitute it, called to face the challenges linked to terrorism.
The visit of Mother Yvonne brought great joy that was also expressed through songs and dances, tambourines and applause.  It was a sign of comfort and hope for the entire AFO Province.