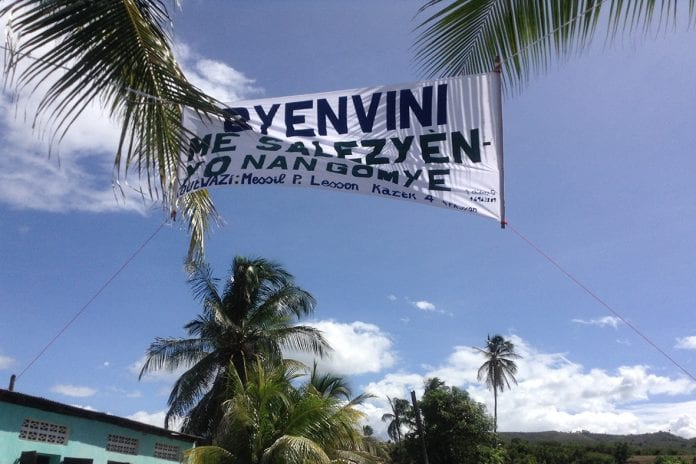 Port-Au-Prince (Haiti). On 3 October 2020, in the plain of Gommiers, located in the Municipality of Roseaux, the new Mary Help of Christians Community of O. L. of Perpetual Help Province (HAI) was inaugurated.
The official reception took place at the chapel of St. Joachim of Gommiers, where Bishop Joseph Gontrand Décoste, Bishop of Jeremiah, the diocese to which the new community belongs, welcomed the Provincial, Sister Aline Nicolas, and the Daughters of Mary Help of Christians of the Community. Present were the Prefect of the area, Mr. Messil Lesson; the Director of the chapel of St. Joachim, Jean Juldas Rameau; the pastor of Immaculate Conception parish, Fr. Runy Joseph; the Sisters of the Good Shepherd of the Myriam Family; and two Salesians of Don Bosco, Fr. Cazy Guiteau and Fr. Jean Gary Joseph. The inhabitants of the area welcomed the FMA with songs and dances.
After a time of adoration of the Blessed Sacrament, Msgr. Decoste inaugurated 'Mary Help of Christians road' which leads to the place where Mary Help of Christians was enthroned as patron, protector, and guardian of the people of Gommiers, inviting the people to count on the help of Mary, the Guide who accompanies us in everyday life.
After the enthronement, there was the blessing of the four classrooms and of the house in which the FMA will live starting at the end of October 2020. The Bishop then invited the Provincial to speak. Sister Aline thanked the Mother General of the FMA, Monsignor Décoste, and those who contributed to making this day memorable for the Diocese of Jeremiah and she affirmed: "The Salesian Sisters are here for a service of evangelization through education. They came to bring the Salesian charism and to encourage young people to know God, to love Him, and to talk about Him."
Subsequently, she read the official letter with the authorization of Mother General, Sister Yvonne Reungoat, for the erection of the new Community of Gommiers, entrusted to the protection of Mary Help of Christians, whose name it bears.
During the fraternal agape, children and young people performed through different choreographies, a manifestation of the joy for this event. The four FMA who make up the new community – Sister Flora Fanfan, Sister Myriam Maximé, Sister Judith Borsa, and Sister Stane Lovely Jacob – were invited to take the stage. Sister Flora Fanfan, on behalf of all, expressed her gratitude for being able to carry out her service in Gommiers and asked the FMA and SDB present to take the stage for a song of gratitude and commitment: 'Here we are, Salesian Family'.