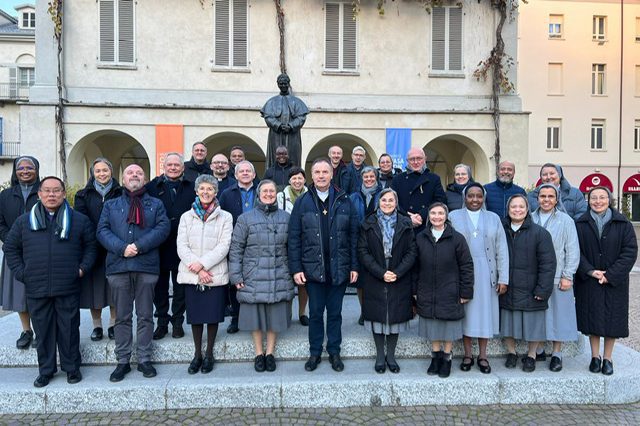 Turin (Italia). An atmosphere of simplicity and familiarity characterizes the meeting of the Rector Major of the Salesians of Don Bosco, Fr. Ángel Fernández Artime; of the Mother General of the Institute of the Daughters of Mary Help of Christians, Sr. Chiara Cazzuola; and of the respective General Councils, on the afternoon of 22 December 2022, in Turin, Valdocco.
With a sense of gratitude for having arrived in Don Bosco's house from Rome, the Rector Major reserves a warm welcome for Mother and the Councilors, emphasizing the joy of being together in the places of origin, in the shadow of the Help of Christians.  Mother also thanks for the fraternal welcome and expresses the joy of feeling at home, part of a large family, children of the same Father.
Then Sr. Runita Borja and Fr. Miguel Ángel García Morcuende, Councilors for Youth Ministry, presented the theme on the agenda: "Vocational promotion as the inspiring principle and goal of Salesian Youth Ministry" and guided a time of reflection and sharing. We are in a historical moment to be considered as a great opportunity to promote a vocational culture, through pastoral care substantiated by insistent prayer and passionate testimony of the vocation that God gives to each one. It is therefore necessary to be truly present among young people, to renew community life and the Educating Community, to insert vocational pedagogy in pastoral educative practice, to trust in the generous hearts of young people, to believe that Jesus continues to call, and that young people are thirsty for God.
Sharing reaches its highest expression in the Eucharistic Celebration, inside Don Bosco's Rooms. In his homily, the Rector Major reminds that God always gives the best of Himself because He gives His Son. Following His example, one must always give the best to God and to the young, without feeling that one is the best, but with the awareness of one's own fragility. It is necessary to rediscover the spirit of poverty and holiness of the origins, of Valdocco and Mornese, which are authentic vocational schools, paths to holiness.
The sharing of the "Heavenly Bread" was followed by a fraternal agape, which concluded with an exchange of gifts and Christmas greetings.