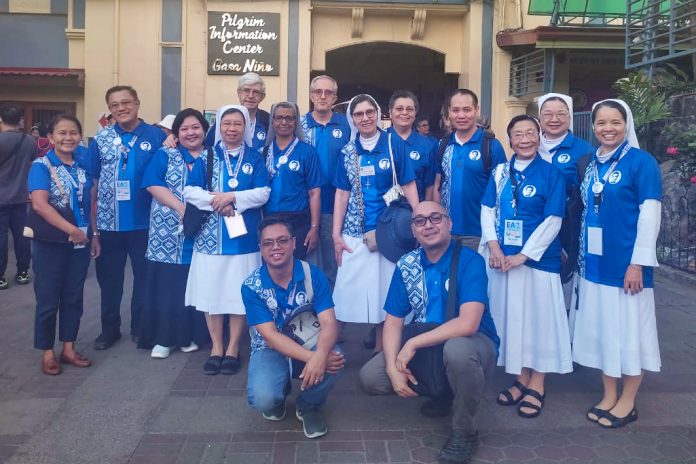 Cebu (Philippines). From 9 to 12 November 2023, the meeting of the Provincial Delegates of the Salesian Family of the CIAO Interprovincial Conference of the Daughters of Mary Help of Christians and of the Eastern Asia-Oceania Region was held in Cebu, at Don Bosco Center in Talisay-Law-An Eastern-Oceania of the Salesians of Don Bosco, with the presence of some representatives of the Salesian Family Groups, for a total of 46 participants.
The meeting was coordinated by: Fr. Joan Lluis Playà, SDB, Central Delegate of the Rector Major for the Secretariat of the Salesian Family; Fr. Alejandro Guevara, SDB, World Spiritual Assistant of the Association of Mary Help of Christians (ADMA); Sister Leslie Sandigo, FMA, General Councilor for the Salesian Family; Sister Lucrecia Uribe, FMA, World Delegate of ADMA and of the Salesian Cooperators; Mr. Domenico Duc Nam Nguyen, SDB, World Delegate for the Past Pupils and the Salesian Cooperators.
The event permitted the Provincial Delegates to share and reflect on the realities of the Salesian Family in the Region; to explore the contributions that the Salesian charismatic identity can offer in a changing world; to promote a renewed relationship with Youth Ministry, and to identify concrete steps for the Region's path towards the future based on good practices.
There were various contributions during the days, including a report on the presence of the Salesian Family in the Region by Mr. Dominic; workshops on the animation and accompaniment of the SF conducted by Sister Leslie and Sister Lucrecia (Prophecy of being a charismatic family and Family in the Church; Prophecy of being communion in synodality; Prophecy of being shared mission); a presentation on charismatic identity in the changing world with group work by Fr. Francis Gustillo, SDB.
On 11 November, Fr. Miguel Angel Garcia-Morcuende, SDB, General Councilor for Youth Ministry present in Cebu in the same Center for the meeting of Delegates for Youth Ministry of East Asia-Oceania, also spoke about Youth Ministry and Salesian Family.
During the afternoons, space was given to the presentation of the groups and the sharing of good practices. Participants also had the opportunity to visit the historic Minor Basilica of Sto Nino, in Cebu, in an experience of communion, spirituality, and formation to strengthen the shared mission.