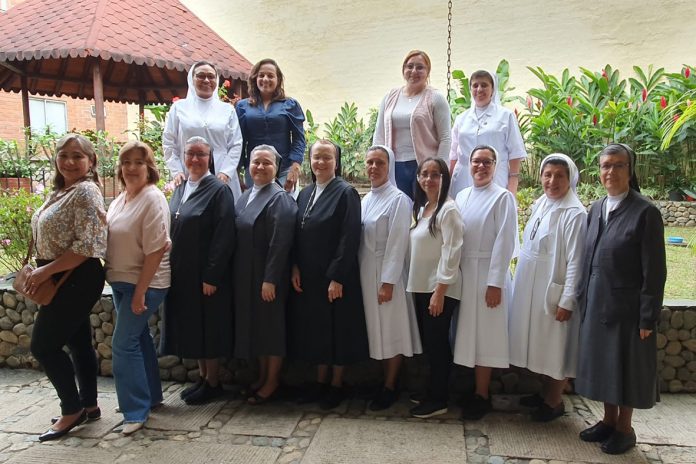 Medellin (Colombia). On 5 March 2023, at the see of Mary Help of Christians Province (CMA) of Medellin, the Directors and Coordinators of the Institutions of Higher Studies for Teacher Training (ISS-FMA) of Colombia met.
Present at the meeting were: Sr. Mary Luz Gómez and teacher Astrid Aristizabal of the Escuela Normal Superior (ENS) María Auxiliadora of Copacabana; Sr. Claudia Gómez and teacher Liliana Castro of the ENS María Inmaculada of Manaure; Sr. Gloria Patricia Marín of the ENS Nuestra Señora of Fátima of Sabanagrande; Sr. Adriana Arango and teacher Elvia Múnera of the ENS Pedro Justo Berrío of Santa Rosa; Sr. Luz Adriana Buitrago of the ENS María Auxiliadora of Guadalupe; Sr. Miryam Sánchez and teacher Ana Mildred Mejía of the ENS María Auxiliadora of Granada; Sr. María Eugenia Rodríguez and teacher Katherine Parra of the ENS María Auxiliadora of Soacha; Sr. Sol Beatriz Maldonado and teacher Claudia Sarmiento of the ENS María Auxiliadora de Cúcuta; Sr. Mónica Patricia Tausa and Sr. Ángela María Giraldo of the ENS María Auxiliadora of Santa Marta.
These are the objectives: to consolidate the ISS FMA Colombia network through the strengthening of the links between the Rectors and the ENS Coordinators (Escuela Normal Superior); socialize the first version of the ISS-FMA 2023-2027 programming; share the evaluation of the 2020-2022 action plan and the implementation of the 2023-2025 plan. It was also an opportunity to renew the commitment to 'make a chorus', in the harmony and concord of the voices, docile to the living action of the Spirit, according to the invitation of Pope Francis.
After the prayer and reflection on The Discourse of Pope Francis to Rectors, Professors, Students, and Staff of the Roman Pontifical Universities and Institutions of 25 February 2023, the current educational panorama of Colombia and the ISS FMA was discussed. A reading was then made of the document "Education in the 2023-2026 development plan".
"Which of these elements should be present in our action plan?" was the guiding question of the group work and of the evaluation of the III Seminar of the Preventive System of Colombia.
We also saw the need to share experiences and socialize the action plan with participation in its evaluation, as it allows the new members to understand the historical and charismatic responsibility of the FMA Institute and the way in which the network favors the mission. This goal can only be achieved with joint participation in its construction of meaning.
The meeting ended with the planning of actions aimed at articulating the 2023 Permanent Seminar, thus favoring the coordination and relevance of the interventions and projects.