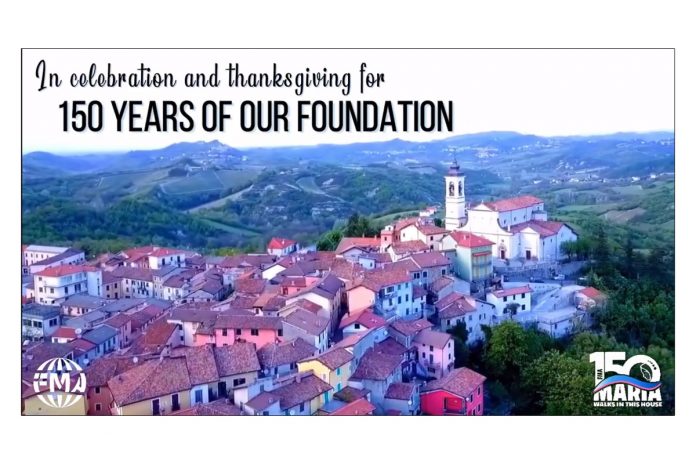 Phnom Penh (Cambodia). The Daughters of Mary Help of Christians of Mary Our Help Province of Cambodia and Myanmar (CMY) join the celebrations of the 150th Anniversary of the Foundation of the FMA Institute, paying homage to the Co-founder, Saint Mary Domenica Mazzarello, with a song entitled: "Mary Mazzarello: A Generous Heart".
"We join the Daughters of Mary Help of Christians (FMA), Salesian Sisters of St. John Bosco around the world to celebrate 150 years of our foundation, paying tribute to our beloved mother and co-foundress, St. Mary Mazzarello. This song expresses our love for her and our desire to imitate her dauntless courage and boundless generosity. May we, her daughters, continue to live the Spirit of Mornese today with big and generous hearts, to make God's love present especially among the young and poor". Words accompanying the video.
The song is composed by Sr. Charlene Chua, the first FMA of Singapore, and is performed by the author herself, together with an FMA from the Philippines, one from Myanmar, and a Novice from Cambodia, with musical arrangements and audio and instrumental recordings by Fr. Daniel Yoon, KMS.
The video presents the ten FMA Communities of the CMY Province filmed in some moments of the mission, while they take up and live the words of Mother Mazzarello in the different realities to which they are called.
"This song about Mother Mazzarello is an accidental composition which I believe is very much inspired by the Holy Spirit. I'm neither a composer nor a musician; the only music I play is to accompany the community at prayer and at mass", explains the author, Sr. Charlene.
"On the eve of the Feast of Blessed Eusebia Palomino, our community patron, I was preparing the Buon Appetito and lamenting that there were no songs about her in English. I silently wished that I could write a simple tune about Blessed Eusebia. Then out of the blue, the tune and lyrics of the chorus to the Mother Mazzarello song emerged in my mind. I was surprised because I wasn't thinking about it and yet it came so naturally. At that time, I wasn't sure that this would end up as a real song but I wrote down whatever I could remember.
Over the next weeks, during pockets of 'free time' in the midst of our busy daily schedule, I tried to go back to it. What amazed me was how easily the words and tune of the verses came. Other than the Holy Spirit, I have no other explanation as to how this could happen. To cap it off, I felt that Mother Mazzarello, who loves us her daughters so much, would want to say something to us too. That was how the counter-melody of the final chorus came.
I only got to know Mother Mazzarello during my formation years but I have grown to love her so much. As such, I feel very blessed to have been inspired to pay tribute to her in this way. Truly, I was merely the instrument which the Holy Spirit used. May this song make Mother Mazzarello known and inspire more young women to follow in her footsteps".
Mary Mazzarello: A Generous Heart
1. A young woman from Mornese how she trusted the Lord
Stripped of all the strength she had, God took all she had got.
Then one day she heard a voice that said, "I entrust them to you".
It was then she made a choice that gave hope to girls in the land.
Mary Mazzarello, your life lives on in us.
Pray for us your daughters, that we may love like you.
Mary Mazzarello, with you, in Jesus we trust.
Obtain for us the courage to go on with a generous heart.
2. To do good for the girls was her simple aim
Yet when God took her humble offering, things could not be the same.
A mission that was fueled with His fire divine
Began to grow and spread throughout the world, fulfilling God's great design. (Refrain)
3. So here we stand, your daughters on every land
Mornese lives on, the Spirit's in our hands.
Be our light, be our guide, be our mother. (Refrain)
 
Final refrain counter-melody:
My daughters, how I love you
Stay close to Jesus, He will show the way
Mary walks with you, she is your guide
Courage, go on with generous hearts.