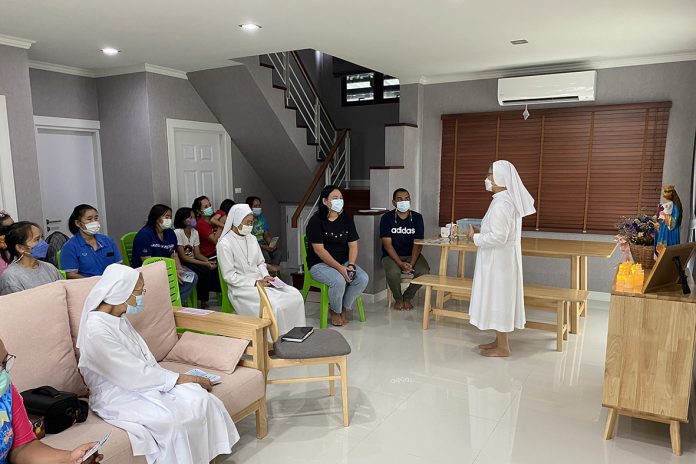 Ban Pong (Thailand). On the occasion of the 150th anniversary of the foundation of the Institute of the Daughters of Mary Help of Christians (1872-2022), the Thai Province of St. Mary Mazzarello (THA) activated the initiative of a pilgrimage of the statue of Mary Help of Christians in the families of the members of the Educating Community and of the pupils.
The members of the Salesian Family were also involved. Thus, on 21 October 2022, Sr. Kuanruan Onakul, of Sacred Heart Community of Ban Pong, Ratchaburi, Animator of the Association of Mary Help of Christians (ADMA), together with the members of the local Group and neighbors, took the statue of Mary to the home of V. Klaithong, a member of ADMA, on the occasion of her birthday. The participants invoked special blessings and entrusted the family to Our Lady to protect them from any danger.
On 24 October, on the day of the commemoration of Mary Help of Christians, the members of the ADMA group, the sisters and some collaborators, gathered to pray the Rosary in the home of teacher K. Charoenphol. At the end, they recited the prayer of entrustment to Mary Help of Christians. The woman thanked them saying, "Today I touched the love of the Lord Jesus and of Our Lady with my hand. I heard them sitting next to us as we prayed the Rosary. Thank you for bringing Mary Help of Christians to this house."
"Mary walks in this house" (cf. Cronistoria V, 51-52) is the expression of Don Bosco that accompanies the initiatives of the 150th anniversary in which the 'house', in this case, the family home becomes the world, where the mission entrusted to the FMA and to the Educating Communities takes place, in which Mary "is present as protector, guide, and inspiration in helping to live the generative force of the charism in the today of history" (cf. Circ. 989).