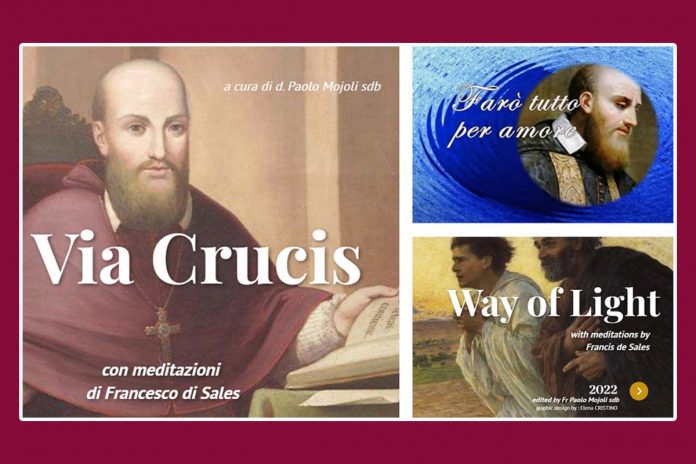 Rome (Italy). To live Lent intensely and prepare for Easter, in the year in which the 400th anniversary of the death of St. Francis de Sales, l
the Congregation of the Salesians of Don Bosco makes available a Via Crucis and a Via Lucis with reflections taken from the texts of the Holy Bishop of Geneva.
The Biblical texts that mark the 14 Stations of the Via Crucis and the Via Lucis, the paschal icons of the events between the Resurrection and Pentecost, with brief extracts from the writings of St. Francis de Sales, were edited by Fr. Paolo Mojoli, SDB, a scholar of the Saint.  Instead, the graphics were done by Professor Elena Cristino, Teacher at the Valsalice High School of Turin.
The proposal is enriched by the song Heart speaks to heart ccomposed by Fr. Maurizio Palazzo, choirmaster of   Mary Help of Christians Basilica in Turin, who interpreted the Strenna of the Rector Major on St. Francis de Sales and by a video, made on the same music by Elena Cristino.
Art and beauty are languages in harmony with the spirit of St. Francis de Sales and help to keep alive the message that the Rector Major proposed to the Salesian Family to celebrate and rediscover the charismatic heritage of the Saint that Don Bosco indicated as inspiration and model: "Do everything through love, nothing through force".
The presentations, translated into languages, are available online in an interactive way, or in the downloadable PDF version:
VIA CRUCIS: ENGLISH
VIA LUCIS: ENGLISH
PDF  VIA CRUCIS: ENGLISH
PDF VIA LUCIS: ENGLISH
Source: InfoANS