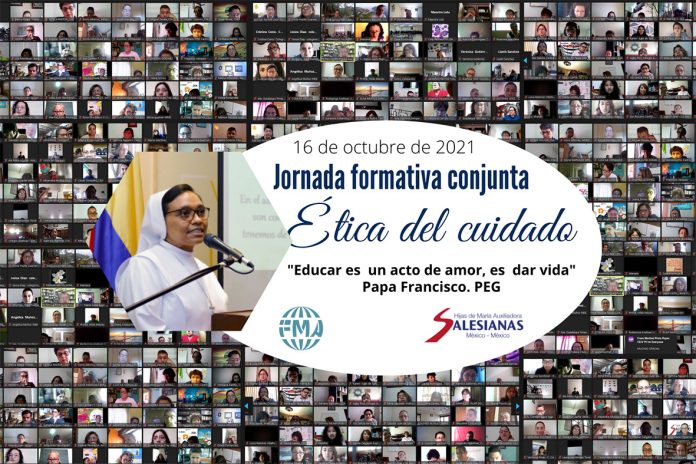 Mexico City (Mexico). On 16 October  2021, the Mexican Province of Our Lady of Guadalupe (MME) organized the first day of joint formation of the school year 2021-2022, which was attended by teachers, parents, school staff, catechists, Daughters of Mary Help of Christians, and members of the Salesian Family.
The ethics of care is the theme dealt with in the online meeting, with the aim of "Illuminating minds to establish interpersonal relationships based on the ethics of care in response to Jesus who calls and unites."
Sr. Monica Tausa Ramírez, Rector of Mary Help of Christians Normal School of St. Martha, of the Colombian Mary Help of Christians Province (CMA), presented the ethics of care from the philosophical origins to evolutions, underlining the aspect of harmony between justice and care, respecting the characteristics and needs of each person, within a shared responsibility. "We are interconnected",  hence the reference to the ethics of care for the educational environments of Don Bosco and Mother Mazzarello.
The speaker then deepened the ethics of care as social responsibility, in the words of Pope Francis, for which "we cannot go forward each on our own, but only together", taking care of each other (Cf. Extraordinary moment of prayer in the churchyard of St. Peter's Basilica, March 27, 2020).
The educational aspect was the subject of the last step of the intervention. "Educating today implies rebuilding the global educational pact. It is necessary to educate to a new humanism that favors service, that leads us to consider ourselves as persons interconnected with each other and with the environment." Finally, she presented a project of her reality, with the participation of the entire Educating Community that takes care of and responds in a synergistic way to the needs of the interlocutors and the territory.
With some dynamics, Sr. Monica encouraged sharing and kept active the interest of the participants, who expressed their gratitude for the insights useful for the development of a common project in favor of the children and young people of the Province.