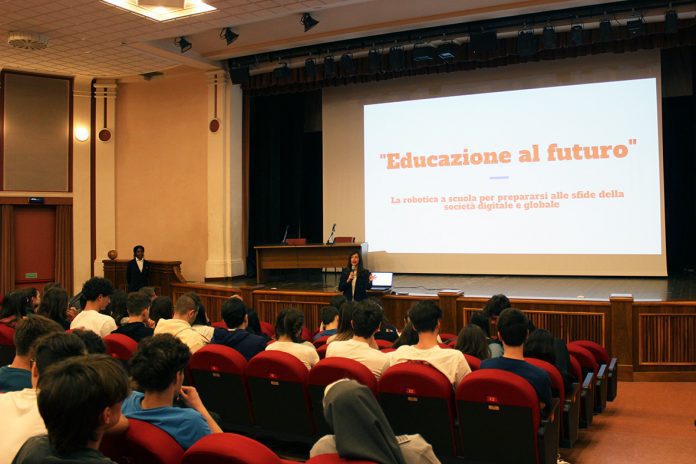 Padova (Italy). On 6 May 2023, the day in which St. Dominic Savio is remembered, the Robotics classroom was inaugurated at Don Bosco Institute of the Daughters of Mary Help of Christians in Padua, in the Province of St. Mary D. Mazzarello (ITV), thanks to the funding of the Cariparo Foundation, as part of the Innovation School Project.
Since the educational action can be effective only by keeping up with the times – if not anticipating them – with great attention to the social and cultural contexts, Don Bosco wanted the best for his boys: avant-garde workshops and tools, so that they could compete in the world of work. Inheriting and cultivating this spirit, Don Bosco Institute of Padua decided to experiment also in the field of Robotics.
The event was attended by the Councilor for IT and telematic services of the Municipality of Padua, Margherita Cera, who took the opportunity to greet the students and their families at the end of the school year. Dr. Francesco Bicciato then spoke on behalf of the donor body, who understood the ability of the FMA to integrate traditional teaching activity with experiential activities, multidisciplinary projects, and technological innovation.
Then there was the intervention of Micheal Broccardo of Mind4Children, a spin-off of the University of Padua "at the service of human potential", involved for the formative support for teachers and educators.
Sr. Daniela Faggin, FMA, Director of the school, underlined that the creation for a Robotics classroom is a further important element of the Salesian strategy, which aims to harmonize the Charism, based on the integral education of the person, with the conscious exploration of the potential of new technologies.
The classroom has in fact been designed to encourage a more engaging and stimulating type of learning; the one that passes through practical experience, which requires working on projects to be implemented and tested. This new space facilitates the exchange of information and knowledge between young people who are called to tackle problems of a different nature together, to think and share in order to arrive at solutions, building knowledge together. These are skills that "know of the future".