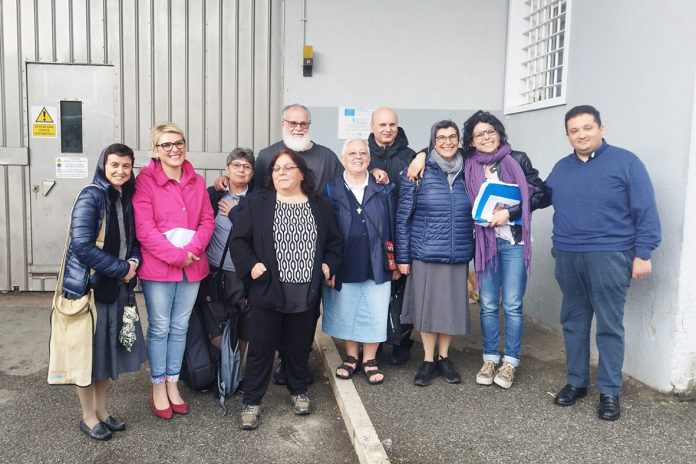 Catanzaro (Italy). On 27 May 2023, two Daughters of Mary Help of Christians of the Community of Lamezia Terme (CZ), Sr. Pia Caso and Sr. Angela Lopardo; and Sr. Roberta Pica of the Community of Mary Help of Christians of Soverato (CZ), together with the two priests of the Parish of St. Raphael Archangel of Lamezia and some lay people, took part in a significant moment of prayer at the "Ugo Caridi" penitentiary institute in Catanzaro.
The arrival in the Catanzaro prison of the Cross of Mercy, built by the inmates of the Paliano prison (Frosinone), in fact allowed the Lamezia group to cross the threshold of the maximum-security prison and join the inmates for the prayer of the meditated Rosary on the theme of mercy.
The Cross – made in the workshop promoted by the Community of Sant'Egidio in the prison under the direction of Luigia Aragozzini, iconography teacher – was blessed by Pope Francis on 14 September 2019, the day of the Exaltation of the Holy Cross. It is touring Italian prisons on a "pilgrimage of hope". Biblical scenes of liberation, ransom, and redemption are painted on the wood of the cross, as well as images of mothers in prison with their children.
The Cross was delivered by the Metropolitan Archbishop of Catanzaro-Squillace, Msgr. Claudio Maniago; to the Director of the Catanzaro prison, Dr. Patrizia Delfino; to the chaplain, Fr. Giorgio Pilò; and to the agents of the Prison Police, to take it to the environments of the prison:  the prisoners' pavilions, the administrative offices, the educational area, the hospital ward, and to make the blessing and the proclamation of salvation reach everyone, especially the prisoners.
It is a gesture of closeness to the new peripheries marginalized by society. It is a small sign to rekindle hope in those who seek the strength to get up and the courage to take back the beauty of life. The prayer shared with the prisoners in front of the 'cross' offered everyone the opportunity to humbly acknowledge their 'errors', to free their hearts from the chains of indifference, and to experience the certainty that the crucified Christ comes to touch the wounds of each one and gives the strength to start over, always, and at any cost.