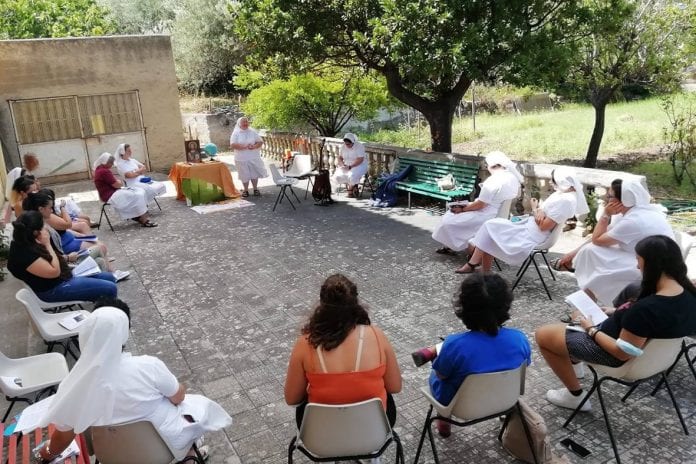 Messina (Sicily) On 24 and 25 August 2020, at the end of a different summer than usual due to the Covid-19 pandemic, a working group made up of Daughters of Mary Help of Christians and 8 young animators from different realities of the Sicilian Province Mother Maddalena Morano (ISI), met in Patti Marina (Messina), at Mary Help of Christians Community, to live the experience of Camp-Lab, the laboratory of talents, sharing, and reflection on the Pastoral Proposal of the new year.
The Camp began with the presentation of the Pastoral Proposal  for the Salesian environments of Italy for this first year of the triennial, centered on Don Bosco's dream at nine years of age, which will celebrate its 200th anniversary in 2024.  Starting from the phrase, "Here is your field, here is where you must work"  said by the woman clothed in light to little Johnny Bosco in his dream at nine years of age, launches the proposal that invites us to stay "in the heart of the world" to be its light, salt, and yeast.
Subsequently, the young women and the FMA immersed themselves in moments of sharing in groups, discussing their dreams within the educational environments in which they live and work – oratory, school, and community accommodation – and on the concrete actions that each can undertake. In addition, some paragraphs of the post-Synodal Apostolic Exhortation Christus Vivit accompanied the three sharing groups in their reflection on their relationship with God.
Between moments of knowledge, dialogue, prayer, relaxation, and fraternity the catchword of Camp-Lab was teamwork. In fact, although the 'courtyards' and the life experiences differed from each other, the desires, dreams, and expectations of each were based on common concepts, albeit with different nuances: to act as an intermediary to build bridges, instead of raising walls; become a network in the union of forces, values, and common goals; being and doing teamwork. Young people and the Daughters of Mary Help of Christians lived together these two days animated by the passion of "Da mihi Animas coetera tolle" and by  "I entrust them to you ".