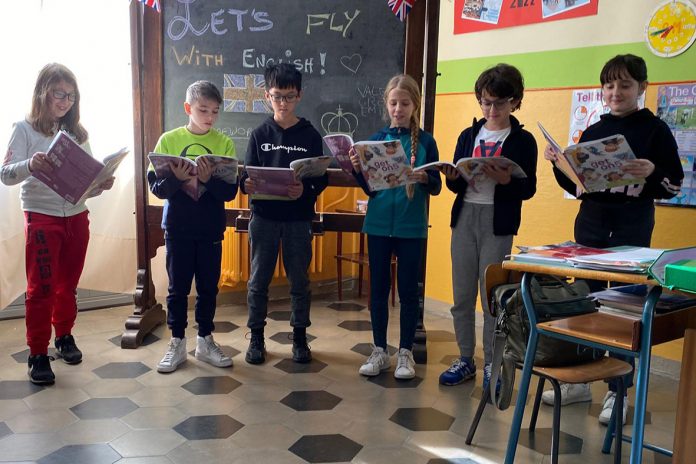 Nizza Monferrato (Italy). Our Lady of Grace Institute of Nizza Monferrato (AT), of the Daughters of Mary Help of Christians of Mary Help of Christians Province (IPI) was recognized by the Cambridge certifying body among the best centers in Italy for the school year 2022-2023.
The Cambridge English Assessment – the University of Cambridge Organization which organizes and manages exams for assessing the knowledge of the English language for non-native English speakers, issues English language certificates based on the framework of international levels according to standards from A1 to C2. It has in fact recognized the School as excellent in preparation for the exams, based on the number of students who have taken and brilliantly passed the written and oral exams by the institution's English-speaking examiners.
"The numbers speak for themselves. Twenty-six fourth and fifth graders who took the first level Startes, had excellent results along with the nine eighth grade students who passed with excellent scores at B1 of the Pet, passing through the intermediate levels. This is the due recognition of their work, but they are so much more! They have not only learned the language at a high level and superior to what their peers generally do, but they faced an exam with seriousness and maturity; they have grown as persons," commented Professor Lina Saracino, the Educator who prepared them.
For years, the school has paid great attention to international openness and fluent possession of the English language, an expression of knowledge, competence, the ability to interact in different contexts and with different people, a means of meeting and communicating. Students begin their approach to the English language starting from the Spring Section of the Kindergarten.
From the first class of the Primary School then, with an entertaining but rigorous method, the pupils attend an hour a week with a mother-tongue teacher. In addition to the curricular hours, they have two hours in the following three-year period, to continue with an hour with a native-speaker teacher at the 1st level secondary school, in addition to the curricular hours.
Here colleagues make themselves available to collaborate every year in the CLIL path where some agreed upon topics of various disciplines are taught in English. The willingness and competence of the Teacher, the continuous commitment to updating, the conviction of being at the service of the global growth of young people and – why not? – the dedicated and welcoming classroom where everything speaks "British", supporting children and young people in getting involved and becoming passionate. Between video and evaluation, conversation and reading, everyone works with passion… waiting for the trip to England!