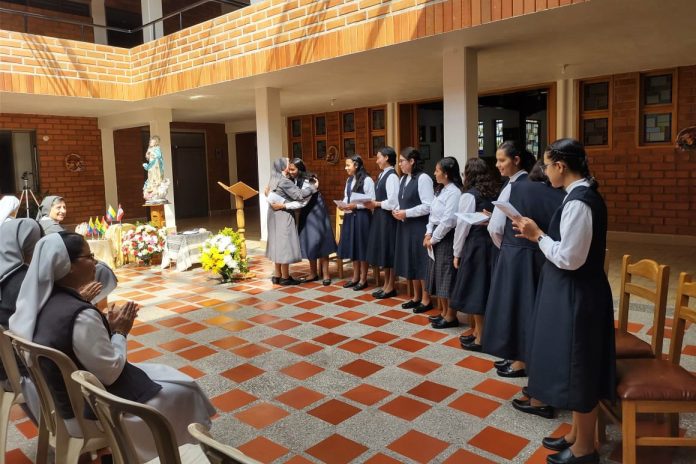 La Ceja (Colombia). On 3 August 2022, in the International Novitiate of St. Joseph, of La Ceja, Antioquia, in the Province of St. Mary Mazzarello (CMM), the unification took place of the Novitiates of the five nations of the Bolivarian Countries and the initiation into religious life in the Institute of the Daughters of Mary Help of Christians of nine young women from Colombia, Venezuela, Peru, and Bolivia.
Sr. Cecilia Camacho, Provincial of the O. L. of the Snow (CBN) and President of the Interprovincial Conference of Bolivarian Nations (CINAB), explains:
"Here in St. Joseph Novitiate, the Novices will be formed from the five nations of the eight Provinces that make up the Conference: St. John Bosco Province of Venezuela (VEN), O. L. of the Rosary Province of Chiquinquirá (CBC), O. L. of the Snow Province (CBN), St. Mary Mazzarello Province (CMM), Mary Help of Christians Province (CMA), Sacred Heart Province (ECU), St. Rosa of Lima Province (PER), and O. L. of Peace Province (BOL). Today we give thanks to God, because after a process of discernment between the Provinces, we have come to consolidate this common project in St. Joseph International Novitiate."
The Novice Formator, Sr. Bernarda Santamaría, originally from Argentina, who begins her mandate with these young women talks about the challenges that a Novitiate made up of Formators and Novices from different Countries brings with it:
"The greatest challenge is to reach communion. We are all Daughters of Mary Help of Christians and therefore we must reach that communion of sisters that will truly characterize us when each one returns to her Province. The beautiful thing is the same Charism that unites us, a Charism for young people, which leads to generating new life. Therefore, when the Novices return, they will rediscover the reality of the young people of their country, but what does not change, will be the ability to generate life in them."
On the 150th anniversary of the foundation of the FMA Institute, to the young women who have entered the Novitiate and to those who accompany them, the wish is to walk in the certainty that the Lord is always faithful, that His love lasts forever, and He will continue to call and attract many young people, united in the joy of belonging to the Institute.