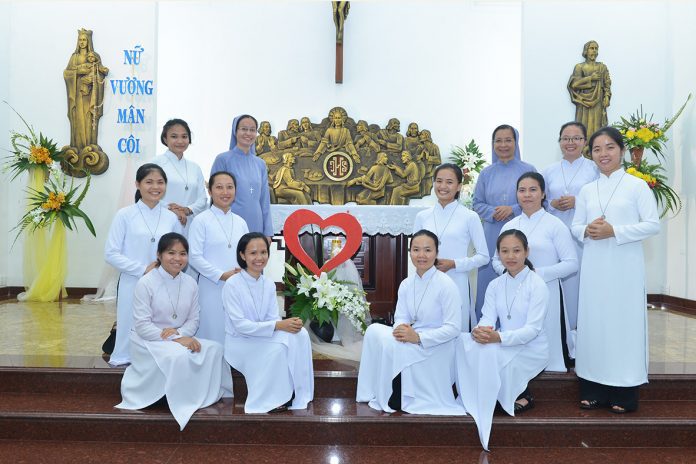 Tam Ha (Vietnam). On 7 October 2021, the feast of Our Lady of the Rosary, at  St.  Joseph House in the Province of Mary Help of Christians (VTN) in Tam Ha, Vietnam, nine young women began the journey to become Daughters of Mary Help of Christians by entering the Postulancy, the time before the Novitiate.
On the evening of  6 October, the Provincial, Sr. Maria Hoang Thi Thu Ha, engaged in the work of the XXIV General Chapter in Rome, gave the  Goodnight online to the young women, inviting them to entrust themselves to the guidance of Mary, "We cannot grow in our vocation without the accompaniment and guidance of Mary, without a life intimately united with God, a heart open to amazement, and to grasp the positive in everything."
The rite of entry into the Postulancy took place during the celebration of Vespers of Our Lady of the Rosary, in the presence of Sr. Rosa Vu Thi Kim Lien, former Provincial, of Sr. Maria Do Thi Tuyet Nhung, Provincial Vicar, of some Community Animators, FMA , Novices, and young people in vocational discernment.
After being called by name, the young women expressed before the community their desire to begin the formative journey in the Postulancy. The Provincial Vicar welcomed them with the imposition of the medal of Mary Help of Christians and Don Bosco, a sign of belonging, and addressed a few words to them starting from the verse of St. Paul "The love of Christ impels us" (2 Cor 5:14), chosen by the young women. "Let 'the love of Christ impel us' to make daily choices with love, to grow in love for God and for one another with actions in Christ, and to begin anew each day with the love of Christ."
At the end of the celebration, the Postulants expressed their gratitude to God and to the FMA Community:
"Being able to live in Community after the lockdown due to the Covid-19 pandemic, is a sign of God's Providence for us. God's love, in fact, precedes and foresees everything! Especially on this day, we feel we have received many blessings from God through prayer, care, best wishes, and support from the whole Province."
To the young Postulants, may they feel accompanied by Mary Help of Christians  to walk in the footsteps of St. John Bosco and St. Mary Mazzarello, to be a sign of God's love among young people.