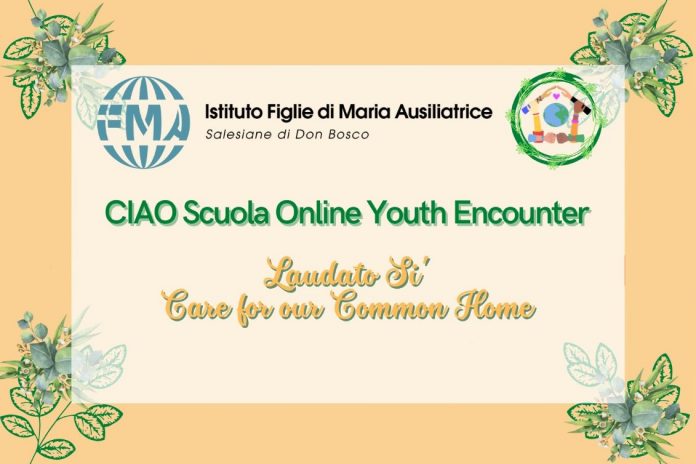 East Asia. On 10 July 2022, around 200 participants connected for the online meeting of young people, lay animators, and representatives of the Daughters of Mary Help of Christians of the Schools and Vocational Training Centers of the Interprovincial Conference of East Asia (CIAO School), including: Hong Kong, Taiwan, and Macao (CIN Province); Cambodia and Myanmar (CMY Province); Philippines and Papua New Guinea (FIL Province); Japan (GIA Province); Korea and Mongolia (KOR Province); Thailand (THA Province ); East Timor and Indonesia (TIN Province); and Vietnam and Laos (VTN Province).
The event was proposed to celebrate the 150th anniversary of the foundation (1872-2022) of the FMA Institute and the 7th anniversary of Pope Francis' Encyclical Laudato Si'. The work team that conceived and organized it was made up of FMA and young representatives of each Province, with the aim of offering participants an experience of sharing and synodality, to learn from the experiences and good practices of the others Schools, in line with the seven objectives of Laudato Si'.
At the opening of the meeting, the greetings via video message were received from the Superior General of the FMA Institute, Sr. Chiara Cazzuola and from Sr. Runita Borja, General Councilor for Youth Ministry, while the Visiting Councilor, Sr. Maria Assunta Inoue, participated at the entire meeting and gave the final greeting.
Through a short video, each Province shared their good practices regarding Laudato Si'. Subsequently, Ericka Quilos, representative of young people and member of the VIDES Philippines Administrative Council, gave her contribution to the formation of young people, deepening the themes of environmental protection and awareness of poverty, protection and education of children. The participants then had the opportunity to meet in small groups through the virtual rooms, to share proposals, reflections, and personal action plans about the challenges of Laudato Si'.
The event was a great opportunity for meeting and collaboration between young representatives of different cultures of East Asia, each with their own creativity, hope, and passion at the service of others and the environment.
As CIAO Schools, it was an experience of reciprocal gratitude and of the Institute, with the common dream of continuing the journey.
In the following days, on 16 July 2022, the FMA in charge of the Youth Ministry of the CIAO Conference met online with Sr. Runita Borja, who presented the FMA Institute's programming for the 2022-2027 six-year term, in particular regarding the Youth Ministry Sector, and each FMA shared the situation in her own Province regarding the Salesian Youth Movement, Vocation Animation, and collaboration with the Salesians of Don Bosco in the Schools.
These meetings were fruitful in sharing and encouraging for the future, with concrete indications for all realities and for each participant to continue carrying out works, initiatives, and activities with a Salesian spirit and ecclesial participation.