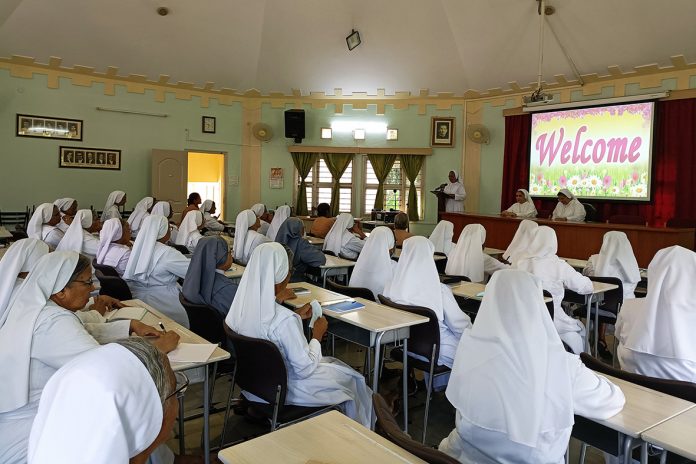 Bangalore (India). During the month of June 2022, in preparation for the celebration of the Centenary of FMA presence in India (1922-2022), Sacred Heart of Jesus Province (INK) proposed three "days of spiritual renewal," with the aim of "blowing away the ashes and reawakening the Spirit of the origins."
The meetings were sub-divided into four turns according to years of profession, with about 50 FMA for each group.  They were led by Sr. Celine D'Cunha, FMA of the Immaculate Heart of Mary Province (INS), who dealt with various topics such as: Beauty and the greatness of the Salesian vocation; Consecrated life today; Ongoing formation; The Synod on Synodality; Fidelity to the charism; The challenges of education in the digital age; the deliberations of GC XXIV, emphasizing in a particular way presence and accompaniment.
The participants expressed their gratitude to Sister Celine for the passionate and charismatic animation of the days, for the liveliness in transmitting her vast knowledge, and for her generous availability.
Some FMA shared their experience:
"Sister Celine was interesting to listen to and enthusing in sharing her extensive knowledge with numerous personal examples. It was a time of renewal for each of us" (Sister Marietta).
"I am truly grateful to Sister Celine for her fervent and engaging spirit, which allowed us to rekindle the flame of love for Jesus, and therefore to renew ourselves in order to resume our vocational journey and our mission" (Sister Sahaya).
"I am happy to have been able to regenerate myself to better face the mission, as our presence in this contemporary era is very important and demanding" (Sister Valsa).
All the FMA who participated in these days returned enriched, renewed, and inhabited by the strong desire to return to live the Spirit of Mornese.
"During the Retreat, we lit the fire in our hearts, but if we don't rake the ashes from time to time and put on some wood, it will go out" (Mother Mazzarello, Letter 27/8).