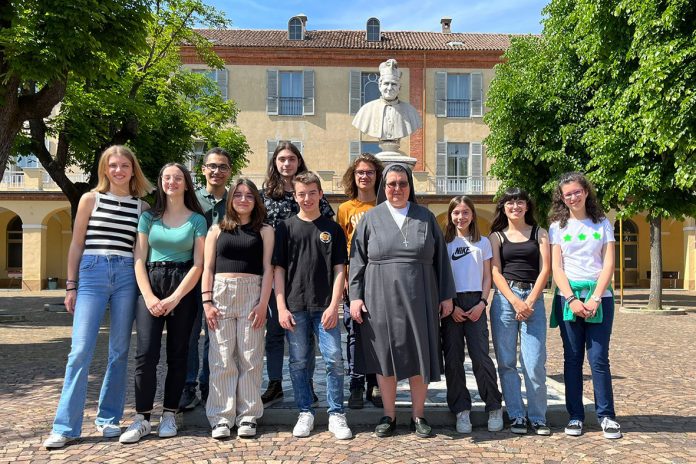 Nizza Monferrato (Italy). The young people of the Historical Archive of the Daughters of Mary Help of Christians (ArStoGiò) of the Piedmontese Province of Mary Help of Christians (IPI) completed and opened to the public a new project at Our Lady of Grace Institute in Nizza Monferrato. Over the course of a year in fact, they created an escape room inside the building.
An escape room is a sort of "treasure hunt", in which the competitors are left in a room where several clues are hidden, which one after the other lead to finding the key to get out. It is a game that stimulates collaboration and attention, but which has a very specific purpose: to discover the history of the FMA Institute while having fun.
"We young people accepted this challenge with enthusiasm, with the help and guidance of Sr. Paola Cuccioli. After researching the history of the House from 1879 to 1929 through historical documents, we began to shoot some short films that represented its salient moments, as well as having collaborated on various initiatives of the Institute, such as the world Feast of Gratitude or the walk-pilgrimage MorNizza.
After a few months of activity of the group, which has grown along the way, we finally began to devise riddles and puzzles that would soon become what the escape room is today. We modified the environment of Sacred Heart Church with historical objects and mannequins, among which we have hidden our clues. We have thus tried to summarize the history of the Institute in a quick and understandable way, also through some posters hanging on the walls that allow players to find the necessary information.
Another part of the group instead dedicated itself to the technical part. We created audio and video systems that allow the director to observe and manipulate everything that happens during the game. For all of us it has been a path of growth, both individual and collective, which has led to the result we hoped for. After experimenting with the escape room with our parents and Sisters to find all the errors and problems, we are proud to finally be able to open it to the public."
To live the escape room experience, recommended for groups of 6 or 7 people, you need to make a reservation by writing to the email address archiviostorico.nizza@fmapiemonte.it