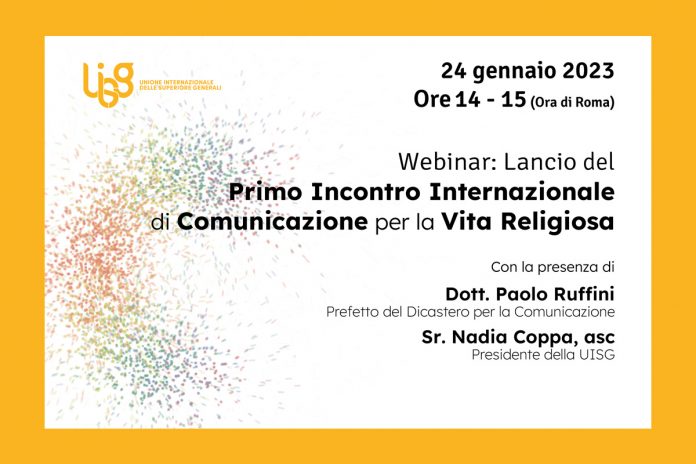 Rome (Italy). On 24 January 2023, the International Union of Religious Superiors (UISG) is organizing a webinar to launch the First International Meeting of Communicators for Religious Life entitled "Communicating Religious Life", which will take place online from 27 to 30 November 2023.
"This day the Church celebrates St. Francis de Sales, protector of social communications. It seemed to us the most suitable day for the presentation of an event that wants to involve those whose mission is communication at the service of religious life. We are speaking of consecrated men and women, but also of many lay people who, embracing the charism of the congregation, tell it by putting their passion and professional skills to good use", reads the statement from the UISG Communication Office.
The webinar proposal stems from UISG's awareness of an increase in attention towards digital communication by its members and, at the same time, of the need for more adequate professional formation to respond to technological and communication challenges of complex and rapidly changing societies.
Pope Francis, in his Message for Social Communications Day 2014, wrote: "In this world, the media can help us feel closer to each other; to make us perceive a renewed sense of unity of the human family which leads to solidarity and serious commitment for a more dignified life. Communicating well helps us to be closer and to get to know each other better, to be more united."
During the launch webinar, which will be attended by Dr. Paolo Ruffini, Prefect of the Vatican Dicastery for Communication, and Sr. Nadia Coppa, ASC, President of the UISG, all the materials produced for the event and the calendar will be presented, and it will study the role that, today more than ever, institutional communication plays so that the mission, the Charism, and the very identity of consecrated life may be known.
Invited to the event – which will be held from 14:00 to 15:00 (Rome time) in English, Italian, French, Spanish, and Portuguese – are religious and lay people who are involved, in various ways and in various capacities, in Communication of Religious Institutes.
To register: bit.ly/lMCRL_112023
Info: comunicazione@uisg.org