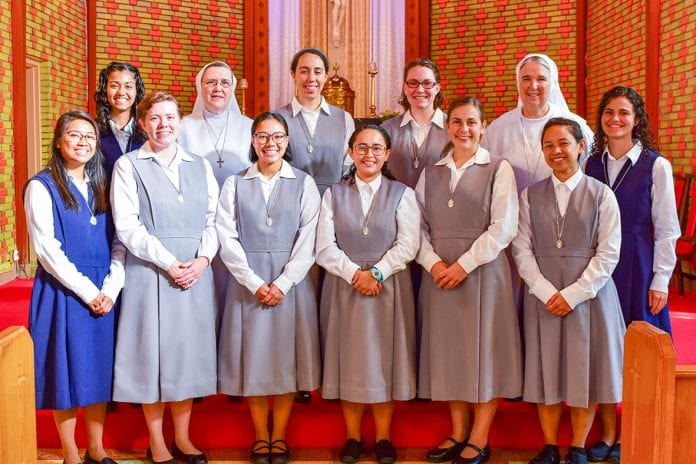 New Jersey (United States) St. Joseph Province of the United States and Canada (SEC) celebrated the 148th anniversary of the foundation of the Institute by accepting the mandate "I entrust them to you",  with a series of celebrations that began with the Entrance into the Novitiate of three young women on 2 August, and culminated with a Perpetual Profession of 15 August 2020.
On 2 August the Provincial, Sr. Joanne Holloman, welcomed three postulants who celebrated the Rite of Initiation into Religious Life. During the celebration, which was held at Sacred Heart Center in Newton, New Jersey, the three young women received the medal that identifies them as Novices.
On ​​4 August, in three different locations in the Province – Cornwall, Ontario; Haledon, New Jersey; and Naples (Florida) – nine temporary professed FMA renewed their vows, while on 5 August the First Religious Profession of a young woman took place in Newton. Having lived the time of the novitiate, she gave herself to God and to the young according to the spirit of Don Bosco and Mother Mazzarello.
Thanking God for the gift of religious vocations, the Communities celebrated the Jubilees of 18 FMA: three celebrated their 40th, four their 50th, four their 60th, one her 65th, two their 70th, and one her 75th year of religious profession. Although this year the pandemic canceled the public celebration, at the Provincial House in Haledon, New Jersey, the Anniversaries were commemorated with a Mass in the Chapel and a celebration on 9 August.
On 15 August, the SEC Province celebrated the Feast of the Assumption of Mary with the Perpetual Profession of an FMA who pronounced her "yes forever" to God in the presence of her family, the FMA, and the new Bishop of Paterson, Fr. Kevin Sweeney, who presided over the celebration.
All the celebrations were transmitted in live streaming for those who could not participate due to the restrictions regarding the Covid-19 pandemic.