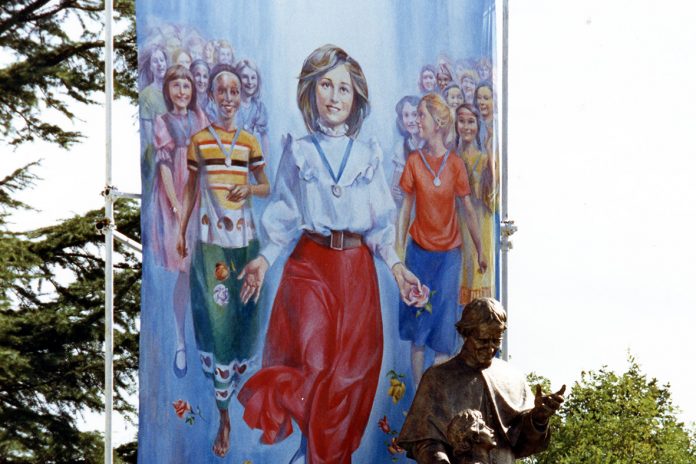 Rome (Italy). September 3, 2023 marks the 35th anniversary of the Beatification of Laura Vicuña (April 5, 1891 – January 22, 1904), fruit of the youthful holiness of the Salesian Preventive System. It was 1988, the centenary year of Don Bosco's death and the celebration in which Saint John Paul II beatified the young woman took place in Colle Don Bosco, Castelnuovo Don Bosco (Asti), at the end of the "Confronto '88".
This student of the Daughters of Mary Help of Christians of Junín de los Andes, in Argentina, offers a testimony of how the Gospel lived radically can transform a situation of violence into an occasion for reconciliation.
Immediately after her First Communion, Laura perceived the desire to consecrate herself to God with vows and to spend her life educating girls. However, there was an impediment, which meant that she could not be accepted among the Daughters of Mary Help of Christians. The condition of her mother, Donna Mercede Pino, who lived with Manuel Mora on an estancia, an estate for cattle breeding, had caused unfounded suspicions about the legitimacy of Laura's birth. To this suffering was added the immense displeasure because of her mother's situation.
After the first year in Mary Help of Christians School in Junín, during the holidays of 1902, Laura returned to Quilquihué, at the Mora. Aware of the situation, she placed all her confidence in the medal of the Immaculate Conception of the Daughters of Mary, which she wore around her neck as an unbeatable shield. Donna Mercede had seemed sad; she appeared aged, because slowly her dreams about Manuel Mora had vanished; that man, who turned out to be violent and despotic, did not bring her the promised happiness.
Manuel Mora showed "particular" attentions for Laura and, during those holidays, he tried to ambush her,  which he failed to do, in order to take advantage of her. Laura, extremely sensitive, struggled to live there, far from the possibility of participating in the Eucharist and receiving the sacraments. She was aware that her mother lived far from God's grace and hoped for her conversion. Furthermore, Mercede concentrated her maternal sensitivity on her youngest daughter, Giulia Amandina. Laura realized this and suffered in silence.
Returning to the School no longer as a boarder but as an intern assigned to the Sisters' house, Laura was entrusted with looking after the younger boarders whom she taught to pray and gave advice, with a marked maternal spirit, full of amiability and charity. In September, the spiritual exercises on death, hell, and heaven were held. Already in that period, the young Laura, measuring herself with the fourth commandment, "Honour your father and your mother", had matured the decision to offer her life for her mother. She prayed and endured mortifications with the intention of seeing her mother 'free from Mora".
Where did this thirteen year old get the strength to offer her life for the peace and reconciliation of her mother's heart? It was a comment on the Gospel passage of the Good Shepherd who gives his life for his sheep that made this desire germinate in her heart. Laura asked permission from her confessor, Fr. Augusto Crestanello, to offer herself to the Sacred Heart of Jesus as a victim for the salvation of her mother and not to place obstacles in her desire for perfect charity.
The confessor thought about it. Laura stood out from other girls of her age and she had made her vows privately. She loved her mother tenderly; she wanted to do everything for the glory of God and the good of her neighbour. It was clear that the Holy Spirit was instilling in her an ardor superior to her age. The priest therefore, after her repeated insistence, granted his consent. Meanwhile, disease threatened her health.
Laura managed to stay in the School until the Spiritual Exercises of 1903, when she was taken to the estancia in Quilquihué by Donna Mercede, in an attempt to promote an improvement. However, the estancia brought back sad memories and the welcome from Mora was not cordial. The worsening of Laura's illness made Donna Mercede decide to move away to Junín with her two daughters in a rented house. Laura continually begged her mother to leave the man who, even there, had come to mistreat her. It was on her deathbed on 22 January 1904, that Laura revealed her secret to her mother and the offer of her life for her inner reconciliation. Mercede swore to her that she would change her life.
Laura's testimony is a story of violence that finds an unexpected solution in this girl's radical availability to the Gospel. It is a 'generative' evangelical parable: new life, in any field, is generated in pain. Mercede, who had begotten her daughter Laura to physical life, was begotten to the life of grace and peace by her own daughter.