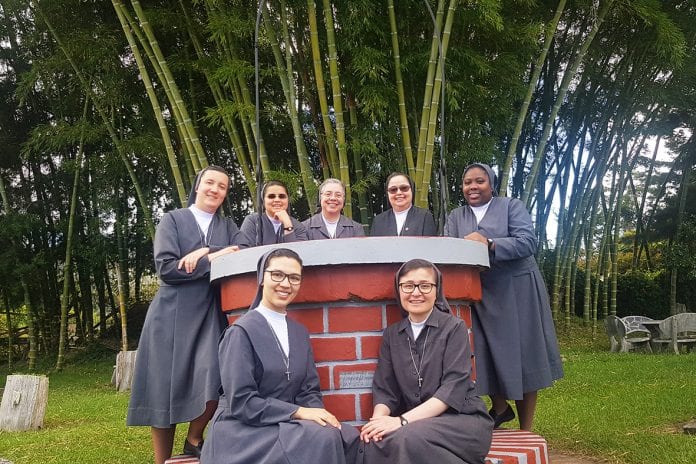 La Ceja (Colombia) From 15 July to 3 August, the Provinces of St. Mary Mazzarello (CMM) and Mary Help of Christians (CMA) of Colombia, in the time of the Covid-19 Pandemic, offer five FMA Temporary Professed the opportunity to meet again to live the formative experience of the Second Novitiate at the House of Mary Help of Christians in La Ceja, CMM Province.
Sister Marleny Patiño Osorio, Provincial of the CMM Province, the FMA of Mary Help of Christians Community, and the young women living the Verification and Orientation Period in La Ceja, welcomed the group.
The objective of the Second Novitiate is to recognize the gift of God in one's life, in an atmosphere of prayer and reflection, to prepare to make their definitive response of fidelity to God in the Institute of the Daughters of Mary Help of Christians.
Accompanied by the passage from Jesus' encounter with the Samaritan woman, the Temporary Professed, assisted by Sister Olga Lucía Vélez, live this time of listening to the voice of God who renews His love for each one and invites to give oneself with joy, in silence and in encounter with the Word and with Jesus in the Eucharist, confronting the Salesian Charism and with the community dimension.
To guide the different moments of reflection and comparison, Sister María Victoria Montoya, CMA Provincial, Sister Marleny Patiño, CMM Provincial, Sister Gladys García, Novice Formator of the International Novitiate St. Joseph of La Ceja, Sister Sara Cecilia Sierra, Yolima Posada, Fr. Armando Álvarez, Fr. Thelían Corona, Fr. Andrés Jaramillo, and Fr. Diego Bedoya  were present.