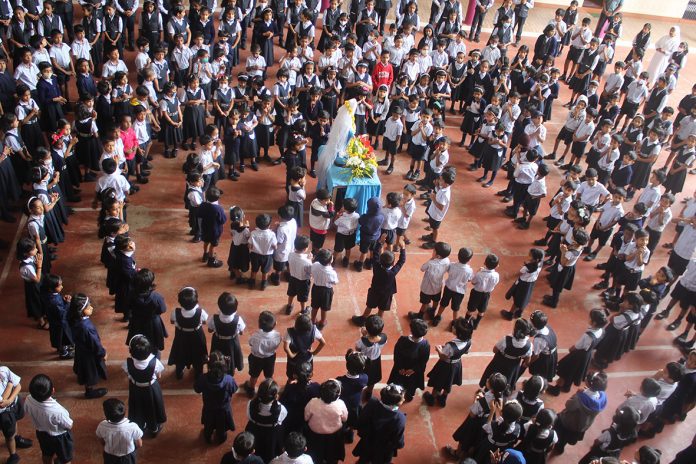 Rome (Italy). On 8 December 2022, on the Solemnity of the Immaculate Conception, the Salesian Family celebrates 181 years since the birth of the Oratory, which began with Don Bosco's meeting with a boy, Bartolomeo Garelli. On 8 December 1841, in the sacristy of the church of St. Francis of Assisi in Turin, he recited an Ave Maria with him before starting to teach him some catechism.
"This is the beginning of our Oratory, which was blessed by the Lord and grew as I could not have imagined then," writes the Saint of young people in the Memoirs of the Oratory.
On 8 December, in all the realities of the world where the Salesian Family is present, the Educating Communities gather to recite an Ave Maria together, to relive the moment "that started it all".
It is a gesture that is renewed every year, with the creativity and faces of all the cultures of the world which, united by the Salesian "family spirit", make it unique and special every year.
"The Marian circle that is celebrated in every community unites us in invoking Her in the languages of the whole world. One wonders on what other day, if not 8 December, the call to a 'poor priest' and to a boy to embody the Salesian charism could have taken place, so that young people, eager for the future, for beauty, for joy would not be disappointed? We were there too in seed", said Mother Chiara Cazzuola on 8 December 2021, in her Message for the Immaculate Conception.
On the occasion of the 150th anniversary of the foundation of the Institute of the Daughters of Mary Help of Christians, we have collected some pictures from all the FMA Provinces of the world, which well 'photograph' this moment, lived with joy and intensity by children, teenagers, and adults, who with the representation of the historical fact, a song, a video or with the simple Hail Mary, every year express their gratitude for the gift of the Salesian charism, a dream that continues with them.
"We are indebted to Mary for everything, all our greatest things had their beginning and fulfillment on the day of the Immaculate Conception" (Don Bosco).
Photos: Flickr FMA