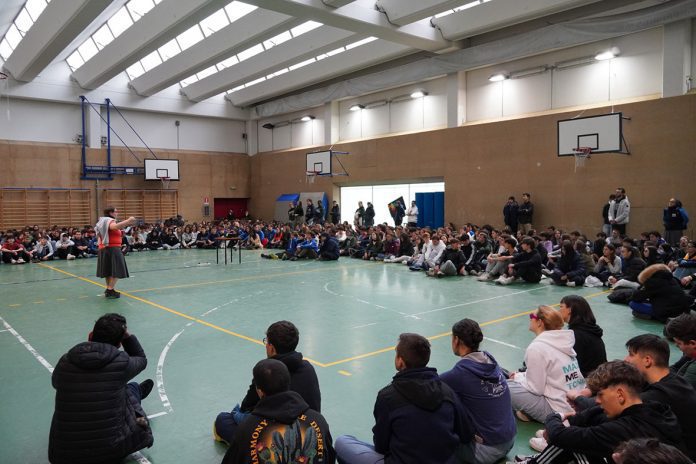 Lombardy-Emilia (Italy). On 11 and 12 November 2023, at the Houses of the Salesians of Don Bosco in Bologna Blessed Virgin of San Luca and Sesto San Giovanni (Milan), Don Bosco Social Works, the first of three meetings of the Animator Formation School 2023-24 took place.
The Animator Formation School (SFA) is a proposal of the Salesian Youth Movement Lombardy Emilia which, for several years, has involved hundreds of adolescents from the Houses of the Salesians of Don Bosco and the Daughters of Mary Help of Christians of Lombardy, Emilia Romagna, Switzerland, and San Marino, offering them a four-year formation course of Christian life, in the typically Salesian style of youth apostolate.
This year, 700 teenagers are involved together with over 240 young people and adults engaged as chaperones and formators divided between the two locations.
Fr. Edoardo Gnocchini, SDB, delegate of Youth Ministry of the Lombardy-Emilian Province, states that the SFA is still today an event that manages to bring boys, girls, and formators from different backgrounds who come together "to create a family in the style of Don Bosco and to give each other the enthusiasm of learning to be animators, united, and the experience and joy that fills the heart in giving oneself to the little ones, to others."
Sister Gisella Ciarla, FMA, delegate of Youth Ministry of Holy Family Province of Lombardy (ILO), focuses on how the formation course offers the adolescents involved "a unique and special opportunity to discover and cultivate their talents and to deepen their faith journey, growing in the awareness that the uniqueness and beauty of each person takes on true value only when they are put at the service of others."
For the SFA this is not only a new year, but above all a new beginning. After the years marked by the suspensions, restrictions, and remodulations necessary to face the health emergency, we have returned to in presence and, without fear, with the large numbers that have always characterized this event.
"The young people needed it and they showed this with a truly significant participation in terms of numbers and quality," notes Sister Anna Maria Spina, FMA, Youth Pastoral Delegate of Our Lady of the Cenacle Province (ILS), also highlighting how it is "a beautiful experience of collaboration as Salesian Family in the Salesian Youth Movement."
Every formation weekend finds its culmination in the Sunday Eucharistic Celebration. During this, the Provincial, Fr. Roberto Dal Molin, underlined how "the oil in the lamp of our life is the love that the Lord gives us; if you live Him, you are ready to meet the 'Spouse'." He also highlighted how being an animator means "learning to love as Christians".