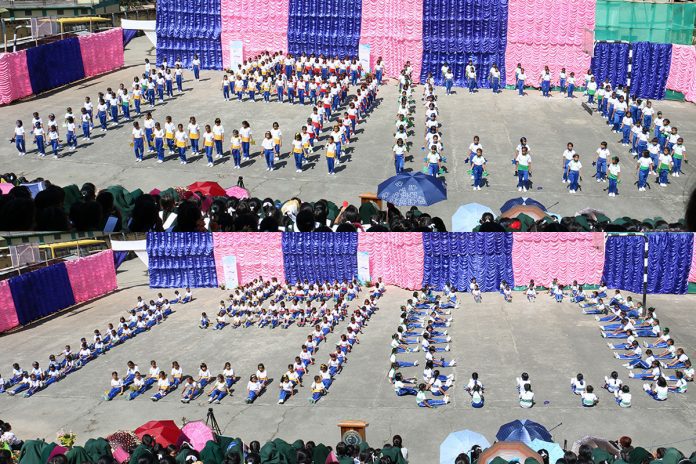 Shillong (India). On 15 October 2022, the Auxilium Higher Secondary School for Girls in Shillong, of Immaculate Heart of Mary Province (INS), celebrated the 150th anniversary of the foundation of the Institute of the Daughters of Mary Help of Christians. The spirit of celebration filled the air and the courtyard of the School, while students and FMA performed songs, skits, and dances.
The celebration was attended by Shri Charles Pyngrope, Member of the Legislative Assembly (MLA) of the Nongthymmai Constituency Circumscription; the Provincial, Sr. Elizabeth George; and other guests. The celebration began with the lighting of the ceremonial lamp, a symbolic gesture to welcome the presence of God. The guests were given a souvenir with the logo of the 150th anniversary and the slogan "Mary walks in this house".
On this beautiful occasion, the school band of the Auxilium Girls Higher Secondary School was inaugurated, which performed five harmonious songs, arousing the applause of the audience. Another significant performance was a theme song, sung with power and joy by the students, festively waving pink and blue flags.
The FMA of Mary Help of Christians Community recited a skit on the birth of the Congregation and performed a dance to the notes of the 150th anniversary hymn "Walking with Mary".
Then there were the discourses by Shri Charles Pyngrope, who expressed appreciation for the contribution of the Salesian Sisters to society in various fields; and by Sr. Elizabeth George, who spoke of the role of Don Bosco and Mother Mazzarello in the birth of the FMA Institute.
To thank God for the blessings received by the Institute over 150 years, a Eucharistic Celebration was held in the evening in which men and women religious from neighboring communities took part. In his homily, Fr. Barnes Mawrie, a Salesian of Don Bosco, former student of the FMA, underlined the accompaniment and active presence of Mary in the life and mission of Jesus, in the Church, in the life of Don Bosco, especially in perpetuating his gratitude through the Foundation of the FMA Institute, 'a living monument of gratitude to the Help of Christians'. After the celebration of the Eucharist, the guests were invited to a festive dinner.