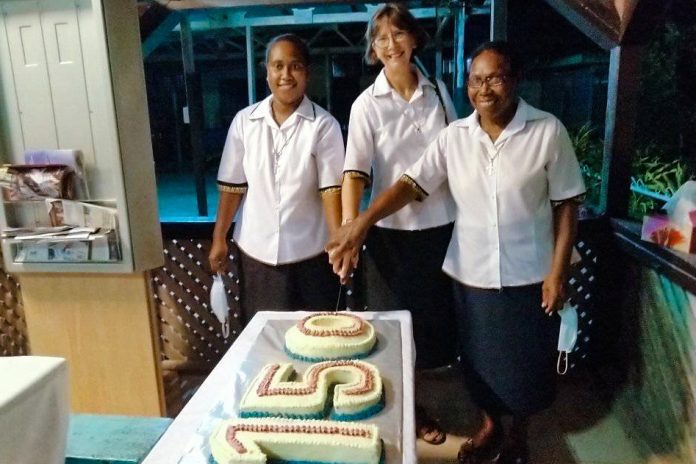 Gizo (Solomon Islands). On 13 May 2022, on the occasion of the Solemnity of Mother Mazzarello, the FMA Community Mother Angela Vallese of Gizo, in the Solomon Islands, of Mary Help of Christians Province (SPR), celebrated the 150th anniversary of the FMA Institute together with young people and parishioners, with the Holy Mass presided over by the Bishop of the Diocese of Gizo, Msgr. Luciano Capelli, Salesian of Don Bosco.
"It is the first time in five years that Mother Mazzarello is celebrated in Gizo" underlines the Animator, Sr. Anna Maria Gervasoni. "Usually, the parish celebrates the apparition of Fatima, but this year we wanted to emphasize the feast of our Co-founder and the 150th anniversary of the foundation of the Institute, together with the parish community and the Salesian Bishop.
Our mission in Gizo is mainly educational; we administer and work in two diocesan schools, one Technical and one Primary. Most of the students are Protestant, but here the faith is lived peacefully and relations between the various Christian confessions are good. It is mainly in these two schools that we bring the Salesian educational system, transmitting it to teachers and professors who find it effective. Students also appreciate the way they learn and are treated.
In the three years of preparation for the 150th anniversary, we broadly introduced the figure of Mother Mazzarello in the Technical School. The girls in particular, enjoyed the film. This year we had plans to highlight both Mother Mazzarello and the 150th anniversary, but Covid, which initially spared the Solomon Islands, came to visit us, also blocking the start of school and pastoral activities.
With the Bishop, however, we decided to solemnly celebrate Mother Mazzarello and the 150th anniversary with an evening Eucharistic celebration, inviting the few parishioners present in Gizo, since most of the people are still 'confined' to their villages and islands, to avoid spreading the virus.
With the small group of young people present in the city, we prepared the liturgy and the songs, even a song dedicated to Main! In his homily, the Bishop stressed that Mary Domenica's holiness lay in her humility, which gave her the ability and strength to give herself completely to everyone.
After communion, we projected a Power point, telling the story of the Foundation of the FMA Institute, of how it developed and operates in the world today.
The finale could not be missing; cake for everyone, indeed, three cakes that formed the number 150, finished quickly both for their goodness and to limit the gatherings. This too is an aspect of our Salesian charism, to find the strategies to celebrate the feast together, according to the conditions of the present time".